'Tavern Talk' for Patch 2.2.0 and PTR next Monday
Developers discuss the upcoming content patch on Monday, March 23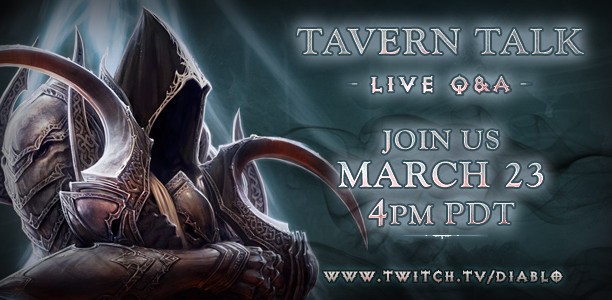 Development is moving along quickly for Diablo III
Patch 2.2
. A Twitch livestream next Monday with three game developers will explore the work on the patch, and how it has been proceeding on the PTR. Wyatt Cheng, Travis Day, and John Yang will join Brandy "Nevalistis" Camel next Monday, March 23 starting at 4PM Pacific (7PM Eastern time). The
Tavern Talk last month
provided a wealth of interesting discussion about the future of the game. This next livestream will dig specifically into the changes that will arrive in patch 2.2.0 and Season 3.
As the 2.2.0 PTR comes to a close, we know you've probably got plenty of questions about what the next patch and season have to offer.
Well, good news everyone! To answer your questions and more, we'll be hosting a live Q&A next week on Twitch!
---
Join me and the following developers Monday, March 23 at 4:00 p.m. PDT:
Wyatt Cheng, Senior Technical Game Designer
Travis Day, Senior Game Designer
John Yang, Associate Game Designer
The four of us will be hanging out in the Blizzard Studio for a full hour, taking your questions LIVE from Twitch chat and digging into the design, iteration, and implementation of our upcoming patch and season. 
Unlike previous Tavern Talks, we won't be pulling any questions in advance, so be sure to have yours ready to go when the show begins!
Haven't made a Twitch account yet? No problem! It's quick and sign up is free with your e-mail or Facebook account.  Just click the purple "Sign Up" button in the upper right-hand corner on any Twitch page.
---
As always, we'll have the VOD of the full Q&A available on both our Twitch and YouTube channels shortly after the stream concludes, so don't sweat it if you can't make it to the live show. That said, we hope to see you there!
No Prepared Questions
Update:
Nevalistis also explained the change in procedure from the other
Tavern Talk
developer chats so far. This time around, there won't be questions decided on ahead of time, but all the questions will be taken during the chat.
Actually, this shift was in response to feedback we received that we took too many prepared questions in advance and that the presence of such questions made the show feel "staged" or pre-recorded.

It's an experiment with the format and not at all indicative of our willingness to take one type of question over the other. The right answer is probably a mix of the two styles, which is what we did with the last Tavern Talk (which still received the above feedback). This way, we have a basic litmus of each experience and can see what works best for our audience. :)

Tavern Talk is still undergoing iteration, and I appreciate all the feedback folks have been providing on it. We'd like to continue providing excellent video and stream content, and your thoughts about what works and what doesn't helps us fine tune.