Console Legendary Gems Fixed
Legendary Gems that were taken in hotfix have been replaced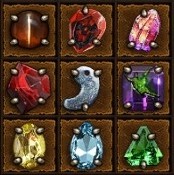 The issues with Legendary Gems on the console
Ultimate Evil Edition
of Diablo III have been resolved. An earlier console hotfix ended up causing issues, including unintentionally removing gems from heroes. Those gems have been replaced by higher ranked Legendary Gems, for the characters affected.
Halloween Pumpkin Contest
To help celebrate the recent Halloween holiday, Blizzard held their regular pumpkin carving contest. The five winners each received a
Hallow's End Nemesis: Headless Horseman Action Figure
.
The winners of this year's pumpkin-carving contest have been chosen -- and they're monstrously spectacular. We've shared some of favorite Diablo designs below, but be sure check out all of the creepy, incredible, and creative winning pumpkins here.
We'd like to thank everyone who participated this year, and we can't wait to see your mad scientist skills in action again next time around. Happy Halloween, Sanctuary!
Console Legendary Gems Replaced
The earlier hotfix was an attempt to lower the cost of regular gems, when used to Enchant an amulet or ring. That change will now come in the next patch for the
Ultimate Evil Edition
. For now, the issues with Legendary Gems have been taken care of, with
replacement gems mailed
out to the heroes who lost them.
Thank you for your patience!

To address the outstanding issue of de-ranked Legendary Gems, we are distributing replacement gems to the affected group of players via in-game mail. The replacement gems will be ranked higher than those that were previously lost.

To those who experienced this issue and are sent replacement gem(s), please make sure you have enough space in your hero's inventory before opening the mail. With this, an Internet connection is required to claim the mail and you will need to be signed into your SEN or XBL account, as appropriate. Be aware that for PlayStation 4, your own user name will appear in the sender field. For Xbox One, no name will be associated with the mail and the sender field will be blank.

We will still be proceeding with the original change to the Mystic's enchanting cost, reducing the required quality from Flawless Imperial to Imperial. However, this change will be made in a forthcoming patch. We want to say thank you again to everyone who was affected, for your patience and understanding. We apologize for any inconvenience this issue caused and hope that this resolution helps you get back into the fight as soon as possible!
Console Legendary Gem Display
The ranks of Legendary Gems aren't currently displayed for those in the stash, on the console display.
In UEE the rank of your Legendary Gem doesn't show while it's in the stash, but it does show up if the gem is actually in your characters inventory. I can see how that would be a little confusing, so I'm going to pass this feedback along to the team. Thank you for posting about it, and we'll see you in Sanctuary!