Diablo III Maintenance Today
Login server maintenance planned for 2 hours on Wednesday

Maintenance in Diablo III is normally done on Tuesdays, as with other Blizzard games. There will be an unusual login server maintenance today on the Diablo III servers. The latest Blizzard Blues posts detail a reverted hotfix and an upcoming change to a difficult Nephalem Rift achievement.
Login Server Maintenance Today
As seen in the notification above, there will be login server maintenance today. It starts at 1PM Pacific (4PM Eastern) and is expected to last for two hours. The game will still be playable, but it might be difficult to login. Hardcore players may want to avoid playing during that time as well, just in case the maintenance causes issues with gameplay.
Cesspolls Still in Greater Rifts
In an
earlier hotfix
the Cesspools area was supposedly removed from showing up as a Greater Rift tileset. That didn't actually happen; the Cesspools can still be a Greater Rift area. The hotfix has been officially reverted, until it can be fixed properly.
The following hotfix has been removed from the list.
[LIVE HOTFIXES]
The Cesspools will no longer spawn in Greater Rifts (9/3)


Note that they still have a chance to spawn in regular Nephalem Rifts
The Cesspools still have a chance to spawn in Greater Rifts at this time.
You're Not the Boss of Me Achievement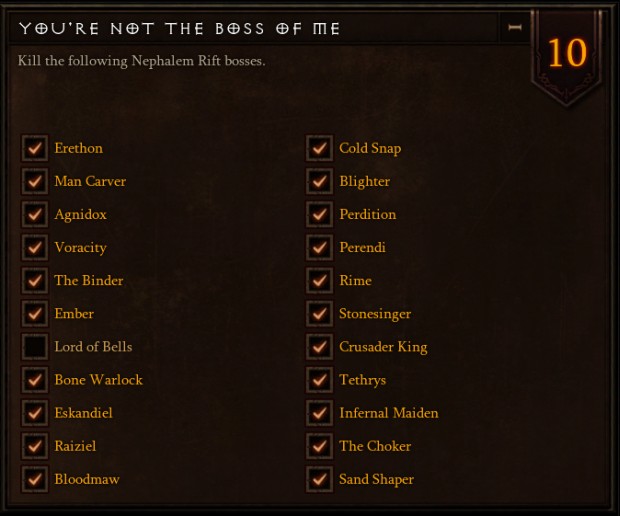 The Nephalem Rifts achievement
You're Not the Boss of Me
is currently very difficult to finish. As seen here, the Rift Guardian
Lord of Bells
is often the last boss to be found to complete the achievement. That boss is part of the very rare cow level Nephalem Rift, and so most players have never encountered it. The achievement will become far more
achievable
after a future client patch, that removes the bovine boss as a requirement.
Just to let you all know, we will be removing the Lord of Bells from the Greater Rift Guardian achievement "You're Not The Boss of Me" in a future client-side patch (as this is not an issue that can be hotfixed). MooOOOooo!
Season Transfers on the Fly
The idea of Seasons is a new one to many Diablo III players. Tyvalir explained why everything will be transferred at the
end
of a season, and not during it.


I'm asking to let us send season items over to non season, whats the difference in waiting till season is over?

When I say season items I'm not specifically asking for seasonal only leg I mean anything that will be transferrable at the end.
One of the main reasons we have your Seasonal inventory roll over at the conclusion of the Season, rather than at-will, is that we'd like players to experience a given Season as a cohesive package, from Season start to Season finish. When a Season is active, it's essentially a completely separate game mode.
We also want to avoid situations where players are just farming Seasons piecemeal for the new Legendary items since they're part of the reward scheme. Players who venture into Seasonal play are intended to get a shot at these items early; for the duration of a Season, those items are exclusive to that Season. Allowing players to bring them over at-will to their non-Seasonal profile before they're added to the normal item pool would work to undermine that reward and break the intended immersion that an active Season provides.