Developer Interviews from gamescom 2014
Talking about the 'Ultimate Evil Edition' and new content after patch 2.1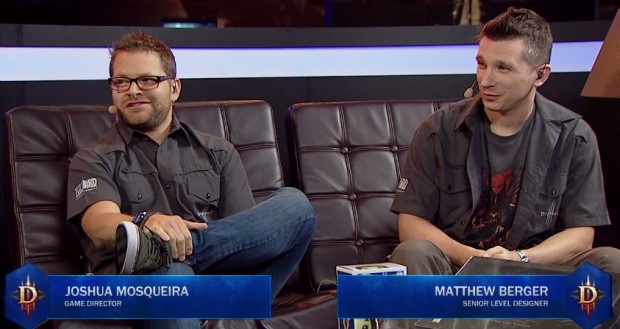 The European gaming convention gamescom 2014 was held on August 13-17, and Blizzard was there in full force. Diablo III developers Josh Mosqueira and Matthew Berger did a whirlwind set of interviews at the show, mainly promoting the
Ultimate Evil Edition
, which was released a few days after gamescom wrapped up. They also dropped some tidbits about future content for the game. Here are three interviews with the Diablo III team, from gamescom 2014.
In an interview with the Romanian site
playtech.ro
, there are lengthy discussions of the process of bringing the
Ultimate Evil Edition
from PC to console, and which is the "best" Diablo III version.
The French site
JudgeHype
also had an interview with the pair, which was
published in French
. Here is a translation of part of that interview, where the developers talk about about possible additions to Diablo III
after
patch 2.1.
Developers have internally discussed at length a system where the player collects objects in the world to receive a reward. This is something that has been under active consideration during the development of Reaper of Souls, originally scheduled to appear in the Adventure Mode. Josh said players should stay tuned, because future patches will have interesting content, which may or may not contain the collection system. There will be more details at BlizzCon 2014.
The team has no new information to share at this time regarding more environments such as The Cesspools for a future patch.
With players having recently hit Paragon Level 1000, the developers have not yet had the time to talk about the addition of new Paragon portraits. However, they would like like to add them.
Various improvements are being developed for clans and communities, but it is still too early to talk about them.
Bringing features from the console version to the PC is always something that developers are trying to do. The team must consider how best to implement them on a PC. This has been done before with Nephalem Globes. Josh mentioned Apprentice Mode in the Ultimate Evil Edition as a possible example.
The developers plan to add many more Legendary items, including a few surprises, but Josh prefers not to say too much before the time comes.
PvP is still under investigation. Developers are curious how the players will respond to the addition of Seasons and Greater Rifts, which are a kind of competition without PvP. Both features will also continue to evolve.
Displaying resource cost reduction and skill cooldown info in skill tooltips is an addition requested by Josh long ago. This may sound simple in theory, but it is not in practice. It is currently one of the many features on the list of things that developers would like to add one day.
Finally, the Diablo III duo stopped by to chat in the official Blizzard stream that ran throughout the show. Starting at 31 minutes into this video, Mosqueira and Berger chat about the
Ultimate Evil Edition
, and new features in PC patch 2.1.