Mercy Wings Arriving in Overwatch: Origins
Diablo III cosmetic wings are part of the expanded Overwatch edition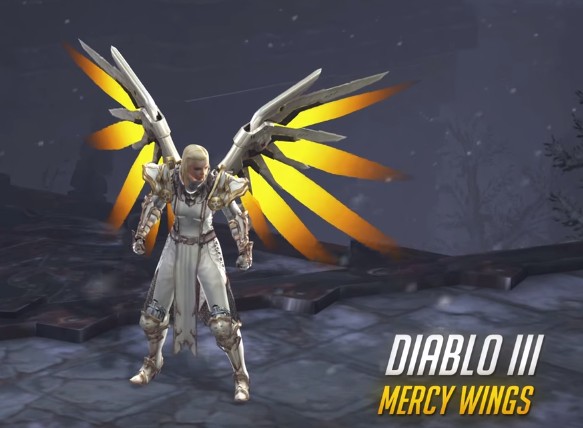 A new set of cosmetic wings will be given to owners of the upcoming Overwatch: Origin Edition game from Blizzard. The team-based shooter will be released in spring 2016, and the cosmetic wings bonus is part of the super edition. This was announced during the opening ceremony of
BlizzCon 2015
, and the game can be pre-ordered now.
The Overwatch: Origins Edition preview shows the extra bonuses for that version of the game. Jump to 1:18 in the video, to see the Mercy Wings in action.
Here are other major announcements from the BlizzCon 2015 opening ceremony:
The beginning section of the ceremony was devoted to StarCraft II, which wraps up with the upcoming stand-alone expansion Legend of the Void. Following that product, the game will be advanced with new "mission packs" that expand the game further. Three new RTS missions will be coming in spring 2016 as part of Nova Covert Ops.
Director Duncan Jones and many actors from the upcoming Warcraft movie showed up, to show the premiere of the movie trailer!
There will be far more Diablo III info on the way, including the main panel in a couple of hours, as teased by game director Josh Mosqueira.
Fret not @Diablo fans... We've stashed away some cool surprises for the panel at 3:30!!

— Josh Mosqueira (@joshmosq) November 6, 2015