Diablo III Enters China with Strong Sales
World of Warcraft subscribers down dramatically in the Activision-Blizzard Q1 2015 earnings report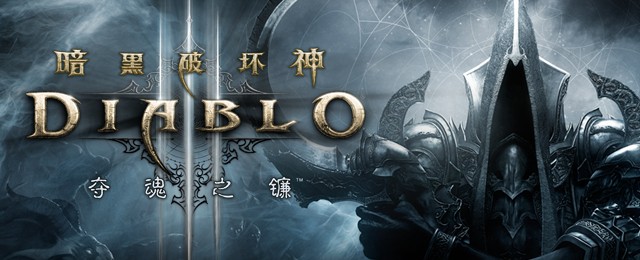 Diablo III recently entered open beta in China, and is already setting sales records there. The positive news was part of a mixed earnings report from Blizzard, for the Blizzard-Activision first quarter of 2015. World of Warcraft subscriber numbers took a nose-dive during the quarter, dropping 3 million subscribers in the quarter to end at 7.1 million. The quarter exacerbated the shift in Blizzard's revenues away from the MMORPG, to their other titles.
Diablo III has been in development for the Chinese language and cultural requirements by NetEase, as
announced last July
. The Chinese version of
Diablo III: Reaper of Souls
entered open beta on April 23, 2015, and three million Chinese players signed up for it. In one week the pre-order sales exceeded 1 million copies, a new record for Chinese sales of a PC computer game. The Chinese edition of the game is unlike the game in other regions; it is free-to-play, with certain content available for purchase in two different packages.
Here are highlights from the Activision-Blizzard Q1 2015 earnings report and conference call.
Diablo III
On April 23, 2015, Blizzard Entertainment and NetEase, Inc. announced that open beta testing for Blizzard Entertainment's award‐winning action role‐playing game Diablo III: Reaper of Souls has gone live in China. Approximately 3 million people signed up to play the beta in China, and the game has already sold 1 million units across two offerings: the Premium Package for approximately $32 (RMB198) and the Digital Deluxe Package for approximately $64 (RMB388).
Chinese players are able to access the base experience for free and can buy much of the content from Reaper of Souls via one of those two add-ons.
In other regions, Diablo III was the #1 PC role-playing franchise in sales for the quarter, based on data from NPD and GfK Chart-Track.
World of Warcraft
As expected given the experience following prior expansions, World of Warcraft subscribers dropped during the first quarter. Subscribers ended the quarter at 7.1 million, while they had been reported at the end of Q4 2014 at over 10 million. A 3 million subscriber drop in one quarter looks to be the largest drop so far, for the volatile subscriber base.
World of Warcraft's revenue has been more stable, driven by continued strong uptake on value added services, and price increases in select regions, which partially offset subscriber declines, particularly in the East. World of Warcraft remains the No. 1 subscription‐based MMORPG in the world. 
Warlords of Draenor brought more players back than any previous expansion, and showed that even long time lapsed players will return when the right content is offered.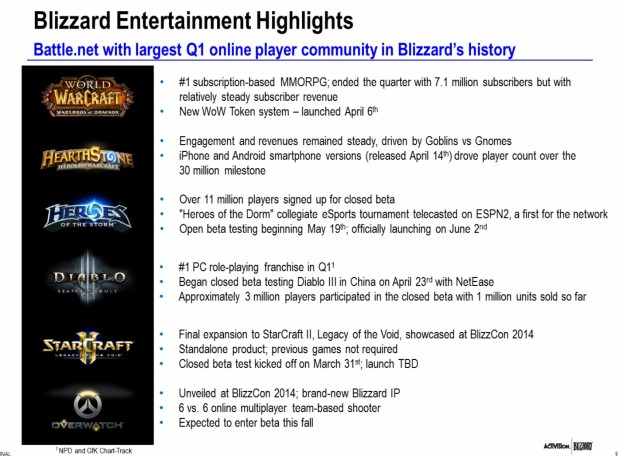 Hearthstone
This was an important quarter for Hearthstone. Despite no new content releases, engagement and revenues were steady quarter-over-quarter and have remained relatively stable since launch. The performance for the quarter was driven by a sustained pick-up of Goblins vs Gnomes.
During the last two weeks of March, presales opened for the second adventure, Blackrock Mountain. Interest in the new content was even stronger than it was with Curse of Naxxramas last August, with 40% more sales in the same timeframe.
The iPhone and Android phone versions of Hearthstone pushed Hearthstone to the number one spot for game downloads in over 25 countries across North America, Europe and Asia, and quickly drove the game to a new milestone of more than 30 million players. Blizzard is hard at work on the next release for the game.
The response to the phone version has really been very positive globally, with an increase in new players. Overall engagement and revenue levels have increased meaningfully with the release of the phone version, and they continue to be strong.
Heroes of the Storm
More than 11 million people have signed up for the Heroes of the Storm closed beta test, which went live in January. Blizzard is continuing to collect great feedback from the beta testers as they drive toward the launch on June 2.
Blizzard recently sponsored the collegiate eSports tournament, dubbed Heroes of the Dorm. There was widespread positive commentary across a range of online communities about the event. This is a testament to the fact that Heroes of the Storm is not only fun to play, it's fun to watch, and has great potential as a spectator sport.
Blizzard CEO and president Mike Morhaime stated, "I think the fact that this is a digital game with long-term content, opportunities we're very optimistic about Heroes of the Storm and how it can grow to become another key game in our portfolio. And I think in terms of how the monetization curve will look, we expect to get started strong on June 2 and we are hoping that that will grow over time."
Overall
Blizzard has successfully expanded their portfolio over the recent past and continues to do so. Growth from franchises like Hearthstone and Diablo have boosted Blizzard's top line and have pushed Blizzard's non-World of Warcraft revenue stream from 30% of total revenue in 2013 to 40% of total revenue in 2014, even while the World of Warcraft revenues also increased in that period. And new franchises like Hearthstone and Heroes of the Storm are expected to further expand non-World of Warcraft revenue to more than 50% share of the Blizzard business in 2015.
Blizzard Entertainment had the largest Q1 online player community in its history, up a double digit percentage year over year despite no major launches in the quarter.
China is a large part of Blizzard's expected growth beyond World of Warcraft. Blizzard-Activision as a whole now has six franchises in the Chinese market: World of Warcraft, StarCraft, Hearthstone, Heroes of the Storm, Diablo, and Call of Duty Online. That is up from two at the beginning of last year. Diablo III is starting strong in the Chinese open beta, and will boost the bottom line further when it is fully released there.