Hardcore Hijinks on 'Play Your Way' Stream
Everyone in the group stayed alive throughout the Twitch stream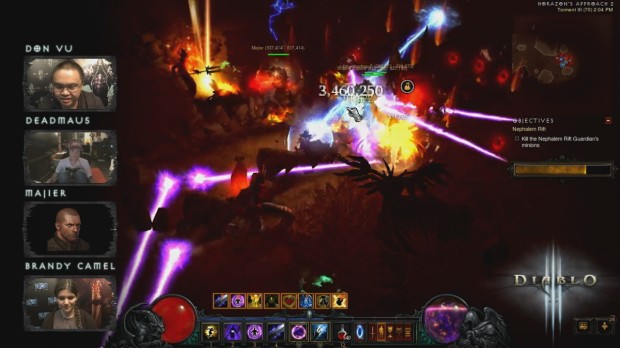 The latest Diablo III
Play Your Way
Thursday livestream was set in Seasonal Hardcore mode, with many narrow escapes by the end. Hosted as always by Brandy "Nevalistis" Camel, she was joined for this round by associate game designer Don Vu, Majier#1230, and special guest Joel "deadmau5" Zimmerman. They blazed through Nephalem Rifts and Greater Rifts, in a fun and entertaining stream.
This session was very much focused on gameplay. There weren't any conversations that provided new game details; new development will be discussed
at BlizzCon next month
, and the players here were making an effort to stay alive. They went through Nephalem Rifts up to Torment 6, and then moved on to Greater Rifts, finishing up with a Greater Rift 29. Since this was in Seasonal Hardcore mode and some of the characters had just recently been leveled up, there were some risky moments as their anti-death skills and item procs were often activating.
A few tidbits of info from the livestream and chat:
End of Season 1 - We haven't announced an end date for the first Season yet. We'll make sure to give people a heads-up before the end, though.
More Community Buffs? - No date. We'll likely have buffs around milestones (patches and the like), though.
Next Play Your Way Livestream - The next livestream won't be until after BlizzCon.
Here's the official recap and video:
Last Thursday, we hopped on Twitch and livestreamed a very special Hardcore edition of Play Your Way, featuring Majier's "Sweeping Thunder" Crusader and special guest, deadmau5! If you missed the live broadcast, the VOD of our play session is now available on both Twitch and YouTube. 
---
For our fourth Play Your Way livestream, associate game designer Don Vu convinced Majier#1230 and I into leveling up new Seasonal heroes to join himself and Joel "deadmau5" Zimmerman in Hardcore mode. The threat of permanent death was very real, and you better bet my heart was racing the entire stream!
We started out with Nephalem Rifts on Torment III and pushed our way past Torment VI. After our successes there, we challenged ourselves to Greater Rift levels 25-29! Want to see how we fared? Then check the video embedded video below or watch the VOD directly on Twitch or YouTube.
Curious about the builds we were running? Here's what we were rolling with:
Brandy "Nevalistis" Camel
Don Vu
Majier
deadmau5
---
Thanks to those who joined us in chat, especially those demanding blood tribute.
Until next time, keep playing your way and don't forget to send in your builds for a chance to join us on stream!