Seasons Active on Patch 2.1.0 PTR
A big feature of the next Diablo III patch can now be tested
Testing of Seasons on the PTR
As seen in the image above, even the introductory info for Seasons is still a work in progress. The functionality is not complete, but players can start testing out this "clean slate" approach to the game. As noted in a post by Lylirra, the Seasonal Legendary items are also not fully implemented, although a handful of them have shown up.
Two-Handed Weapon Changes
As
reported previously
, the patch also brought a big buff in the damage to 2-handed weapons. Developer John Yang jumped back in to reply to further comments, about the effort to make those weapons appealing to more classes than just Crusaders.
Salvage All Buttons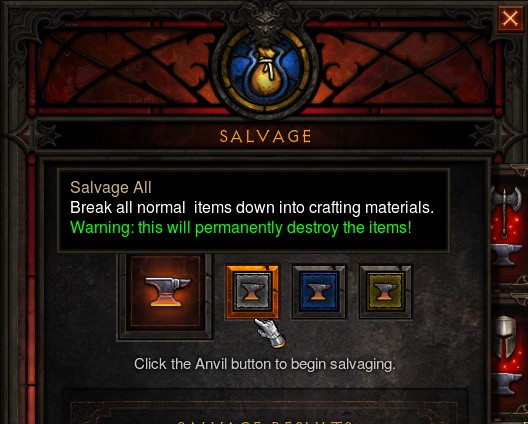 There are new options at the Blacksmith, to salvage all White, Blue, or Yellow items in a character's inventory. This screenshot shows the
Salvage White Items
option being selected. The feature is only available once the Blacksmith artisan has been upgraded to level 12.
Energy Twister Changes
One change in this PTR patch was to the fiendishly difficult Wizard active skill
Energy Twister
. Developer Don Vu stopped by the forums to talk about a mechanical change made to the skill in the patch.
Patch 2.1.0 PTR Known Issues
There is a lot of work still to be done on patch 2.1.0, and the current build on the PTR has a number of bugs. Here is the often-updated list of major issues that are being tracked by the Diablo III Quality Assurance team. These will be cleared up over time, in future PTR patches.