'The Last of Us' Content in 'Diablo III: Ultimate Evil Edition'
PlayStation versions of the game will include a special Nephalem Rift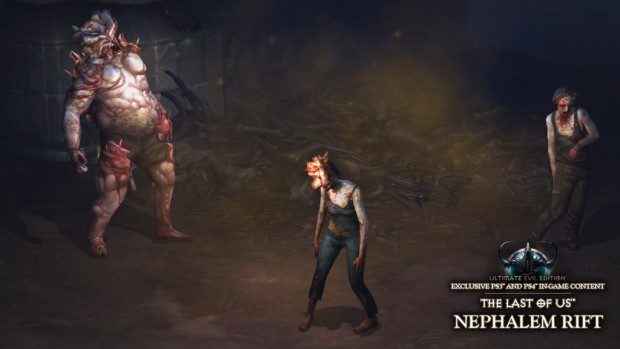 The Last of Us
is a PlayStation exclusive console game, currently on the PlayStation 3 and also coming to the PlayStation 4. Some of the monsters from that game will make their way into Diablo III, as a PlayStation exclusive in the
Diablo III: Ultimate Evil Edition
. At Sony's E3 conference this week, it was announced that the stalkers, clickers and other such monsters from
The Last of Us
will appear in a special Nephalem Rift that is exclusive to the PS3 and PS4 editions of the
Ultimate Evil Edition
.
Here's the brief snippet of the announcement, which was also noted in an official
@Diablo tweet
.
The
Ultimate Evil Edition
is coming to the Xbox One and Xbox 360 consoles, along with the PS3 and PS4. But this special content will only be part of the PlayStation editions of the game.
There is more news of the
Ultimate Evil Edition
on the way from E3. The community team will be doing a Q&A with the developers tomorrow at the show, based on questions submitted by the community. If you have a great question that you're dying to have answered about the upcoming console edition of the game, be sure to post it!
Update: Thank you all for your interest in Ultimate Evil Edition! We received more questions than we anticipated (and more than we were able to address in our interview at E3), so we're taking some extra time to make sure we get to each and every one. In some cases, we may not have answer to a question, but wanted to be sure that we acknowledged all inquiries sent our way.

We hope to have the full list of answers available in the coming weeks in text format. Apologies for the delay, and thank you again for your enthusiasm, curiosity, and passion for Diablo III on console.

----------------------------------------------------------------------

Hello, everyone!

As some of you may or may not know, we'll be showcasing Ultimate Evil Edition on the PS4â"¢ all this week at E3. If you're attending the convention, definitely swing by Booth #4522 in the West Hall and say "Hi!". We'd love to mercilessly slaughter a few thousands demons with you, and of course answer any questions you might have about the game.

This Wednesday, a few of us community managers will also be taking some time to sit down and chat with our console developers at the show. What will we talk about? Well, that's entirely up to you! We'll be treating our interview time as a community Q&A, where all the questions we ask will be submitted by you, our players. We'll follow up with the answers later this week, once the convention has concluded.

So! What do you want to know about the Ultimate Evil Edition? Submit your question below, or feel free to tweet it to @Diablo using the #D3E3 hashtag. While there's no limit on the number of questions you can ask, we can't guarantee that all questions will be answered. We'll certainly do our best to answer as many as possible, though.