Death's Bargain Exploit Removed by Hotfix
Plus a 'Play Your Way' livestream on Thursday with Don Vu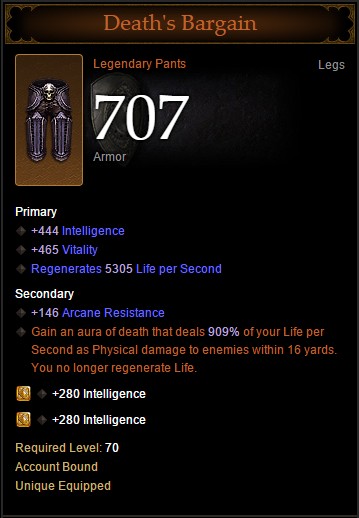 Another exploit in Diablo III has been squashed, this time involving items that interact with the
Life Per Second
stat. The Legendary power on the pants
Death's Bargain
has been temporarily disabled in a hotfix, to prevent further use of the exploit. A slew of other hotfixes are on the way, to take care of bugs and oddities that have cropped up in
Patch 2.2
.
Exploit with Death's Bargain
This latest exploit involved the Legendary pants
Death's Bargain
, which turns
Life Per Second
into a damage stat and stops life regeneration. That was combined with items like the ring
Rogar's Huge Stone
that boosts the stat at low health. When used with a cheat death passive like
Near Death Experience
, a bug caused the
Life Per Second
to be boosted to an incredibly high amount. As seen in a
reddit discussion
on the issue, this combination generated high amounts of damage that could be used to clear difficult Greater Rifts.


An immediate hotfix has disabled the powers on
Death's Bargain
for now, to keep the issue from being exploited further. A more long-term solution will be rolled out down the road in future hotfixes.
UPDATE -
May 5 @ 5:40 p.m. PDT
This issue has been resolved. We know a lot of you have questions about this resolution, so we have provided a quick summary and some additional insight
below
.
-----------------------------------
We've recently become aware of an unintended interaction that occurs when
Death's Bargain
is used in combination with a specific set of items and abilities. In addition to causing server instability, this combination could also be leveraged to gain significant progression in higher level Greater Rifts (that wouldn't otherwise be possible). To help mitigate these effects, we have disabled the Legendary affix for
Death's Bargain
until further notice.
Note that this is a
temporary
measure and we are working on an
additional hotfix
to address the underlying issues. While we don't have an ETA for this fix to share at this time, we will provide updates as they become available.
Patch 2.2.0 Hotfixes
Along with the hotfix that already arrived for
Death's Bargain
, there are many more on the way. This includes a fix for the issue with the Witch Doctor set
Zunimassa's Haunt
, when multiple Witch Doctors are in the same group.
The hotfix list has been updated:
[UPCOMING HOTFIXES]General
Fixing an issue where the Spectral Hound pet will despawn upon character death
Fixing an issue where the Greater Rift timer will occasionally start with less than 15 minutes remaining
Items


Fixing an issue where the combination of Rogar's Huge Stone and Molten Wildebeast's Gizzard would occasionally cause the game to crash
Fixing an issue where the 6-piece bonus from Zunimassa's Haunt is overwritten when more than one Witch Doctor applies the effect to the same enemy
Monsters
Reduced the number of targets that the Gelatinous Sire can split into in multiplayer games
Gelatinous Sire spawns will now have a small moment of invulnerability when they initially split
[LIVE HOTFIXES]Items
The legendary affix for the item Death's Bargain has been temporarily disabled. (4/28)
Round 7 Play Your Way Livestream on Thursday
Another
Play Your Way
Twitch livestream is happening Thursday, April 30 at 4:00PM Pacific time (7:00PM Eastern time.) The guests include Diablo III developer Don Vu, and a variety of classes will be part of the fun.
The votes are in for our next Play Your Way build, and while the Wizard won your hearts, we were unable to arrange an appearance from our winner. Our stalwart Monk runner-up was available, so we'll be grabbing our Daibos and punching our way to victory!
Here are the details:
For this stream, I'll be joined by Davlok#1847, game designer Don Vu, and special guest and YouTuber Meathead Mikhail as we tackle Torment VI and Greater Rifts with a mixed party of classes! I'll be showcasing the spicy Sriracha-inspired Monk build Davlok submitted while Don will represent the Wizard vote with some bubbly Delsere's action. 
If you don't want to miss us the moment we go live, then follow us on Twitch so you know exactly when the action begins!
---
Can't make it during our stream time on Thursday? Not a problem—we'll make the VOD available on both Twitch and YouTube shortly after the stream ends. Follow and Subscribe and you won't have to worry about missing a single replay the moment it's live!