Tooltips Bug in Outdated Google Chrome
Upgrading the Chrome browser to version 38 corrects the tooltips display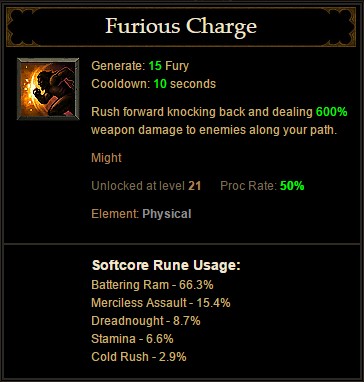 An outdated version of the browser Google Chrome is not displaying the tooltips properly here at
Diablo Somepage
, but upgrading to the current version will fix it. We have been investigating reports of the tooltips not showing up correctly on the site, as users mouse over the names of skill and items. This has been tracked down to a bug in Google Chrome version 37.
When a skill or item is moused over, it should display a full tooltip, as seen in the skill image above. The display in the browser Google Chrome version 37 truncates this tooltip. Fortunately,
Google Chrome version 38 was released
to the public last week, and all users can upgrade to that. The
Update Google Chrome
help can step you through the simple process of updating the browser. Once updated to Google Chrome version 38 or above, the tooltips here (and on other websites across the internet) should once again display properly.
Our thanks to everyone who let us know about this issue. If the tooltips still aren't displaying properly on Chrome version 38 or above, or any other browser, please
let us know
the browser and version with the issue. We are always working to provide Diablo III data in a clear, easy to read format for the Diablo III community.