Two Weeks Until BlizzCon 2014
Blizzard prepares for their annual gaming convention in Anaheim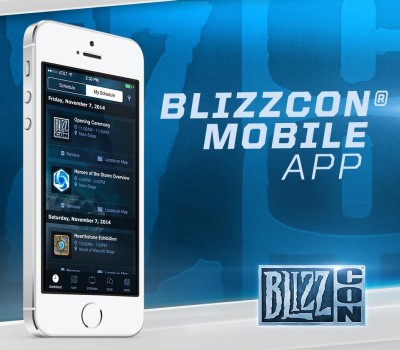 It is less than two weeks until
BlizzCon 2014
, the convention of all things Blizzard! It will be held on November 7 and 8, and the Blizzard employees are busy preparing. A handful of Blizzard Blues posts this week discussed that work, the BlizzCon mobile app, and an issue with a recent hotfix for the console Ultimate Evil Edition.
BlizzCon 2014 Mobile App
The @Diablo account on Twitter
noted
that the BlizzCon Guide apps for iOS and Android have been updated for this year's BlizzCon. There will be two Diablo panels this year, and you can keep track of all the events at the show with the apps.
Preparing for BlizzCon
The Diablo III battle.net forums are awfully quiet lately, and community manager Tyvalir noted that the Blizzard employees are busy preparing for the convention. We are
expecting to hear
details about future Diablo patches at the show.


Whenever Blizcon is on the horizon, blue posts and changes become scarce because they are preparing for it. If they leaked all their plans in advance, then they will not have much to present at the convention.
The weeks leading up to BlizzCon are an exciting and busy time, and we're looking forward to sharing some new info with all of you shortly. At the same time, it's worth noting that it's quite normal for there to be periods of time in Diablo III where there's just not a lot of info to share, especially between patches.
All the same, we really do appreciate you all sharing your feelings about the game, where you want to see improvements, and what you hope to see in the future. Above all, we hope you remember that just because we may not be as talkative as usual, it doesn't mean we aren't listening (or working on the game)!
A Unique Collection Achievement Issue
There was a lot of work done with earlier this year to get the achievements in the Diablo III PC client all working properly. One achievement still causing issues is
A Unique Collection
, that involves killing a large number of different unique monsters throughout the game. Apparently some monsters aren't always recording properly. This is being looked into, but in the meantime a workaround was posted. If players stay logged in for a little while longer after killing the unique monster that is part of the achievement, that will make sure the data is fully saved.


About the Unique collection achievement, yesterday I killed 3, they got uncheck after I log out. This morning those 3 got cheked again so I went hunting and got another 5 killed. Now these 5 got uncheked like before. Still missing one but what the point in finding it if this crap continues.
We've heard a few reports about this as well, and while we are still investigating this achievement in particular, one workaround we have found that helps ensure that you retain progress for this is to make sure you stay logged in for 5 to 10 minutes after completing each criteria item. This isn't ideal, but this seems to be a viable workaround.
Read on for the latest details about a hotfix gone bad for the
Ultimate Evil Edition
on consoles.
Console Enchanting Hotfix Reverted
A small hotfix recently landed for the console
Ultimate Evil Edition
. It was supposed to just change the cost of Enchanting, so that rings and amulets would require an Imperial gem to enchant instead of a Flawless Imperial gem. Unfortunately the hotfix ended up causing problems, most notably with Legendary gems losing their progress and reverting back to rank 0! The hotfix was removed, to stop the issue from continuing.
[UPDATE – Friday, October 31]
Thank you for your patience!
To address the outstanding issue of de-ranked Legendary Gems, we are distributing replacement gems to the affected group of players via in-game mail. The replacement gems will be ranked higher than those that were previously lost.
To those who experienced this issue and are sent replacement gem(s), please make sure you have enough space in your hero's inventory before opening the mail. With this, an Internet connection is required to claim the mail and you will need to be signed into your SEN or XBL account, as appropriate. Be aware that for PlayStation 4, your own user name will appear in the sender field. For Xbox One, no name will be associated with the mail and the sender field will be blank.
We will still be proceeding with the original change to the Mystic's enchanting cost, reducing the required quality from Flawless Imperial to Imperial. However, this change will be made in a forthcoming patch.
We want to say thank you again to everyone who was affected, for your patience and understanding. We apologize for any inconvenience this issue caused and hope that this resolution helps you get back into the fight as soon as possible!
-----------------------
[UPDATE] – We are currently investigating issues affecting Ultimate Evil Edition games in which this hotfix was applied. One of these of these issues includes, but is not limited to, a reported loss of Legendary Gem progress.
Until further notice, this particular hotfix has been reverted across all the console platforms. To help ensure the hotfix has been removed and will not impact your gameplay, power cycle your console platform (turn it off and then back on) before starting a game. Additionally, please note that joining an online game which was created with the hotfix active may cause players within the party to be affected by the reported issues. As a result, we advise using caution when playing online for the next 24 – 48 hours.
We sincerely apologize for this inconvenience and will be sure to provide updates as they become available. Thank you for your patience!
Greetings everyone,
A hotfix has been issued for Ultimate Evil Edition which affects the PlayStation 3, PlayStation 4, Xbox 360, and Xbox One. This hotfix makes an adjustment to the materials needed to enchant Amulets and Rings at the Mystic, reducing the quality of required gems from Flawless Imperial to Imperial.
Please note that since this is a console hotfix, as opposed to a full client patch, there are some key differences of which players should be aware.
Parental Controls:

PS3 and PS4 users who are Parentally Restricted will not receive the hotfix. In order to modify Parental Control settings for these consoles, please refer to Sony's Support Sites for PlayStation 3 and PlayStation 4.
New Gaming Sessions:

On the PS3, Xbox 360, and Xbox One, users may be required to play online* in order for the hotfix to be saved between gaming sessions. Ultimate Evil Edition games created on one of these consoles while offline may not have the hotfix enabled.
On the PS4, users will only need to download and install the hotfix once while signed into their PlayStation Network account. After the hotfix has been downloaded and installed, no additional steps will be required. The hotfix will remain active, even if subsequent games are created offline.
Users on all four platforms must be signed into their respective PlayStation Network or Xbox Live accounts to be eligible for hotfix (PlayStation Plus and Xbox Live Gold subscriptions are not required, however). The hotfix will automatically download in the background when you progress to Ultimate Evil Edition's Main Menu.
*This is not a change to Ultimate Evil Edition's optional offline play mode. Ultimate Evil Edition games created on PS3, Xbox 360, or Xbox One which were previously hotfixed, but are no longer connected online can still be played as normal; however, the hotfix may not be active.