Hardcore Diablo III Played by Fewer Than 25%
New charts display how many level 70 heroes are being leveled up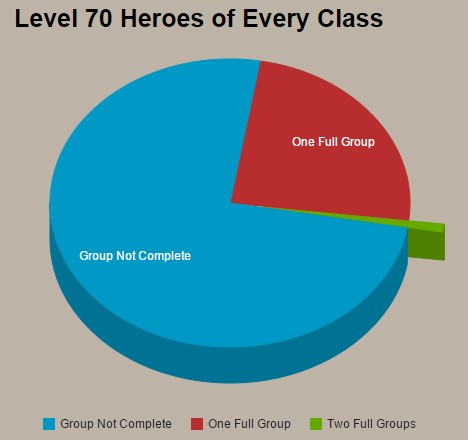 With the over 5 million Diablo III characters that we track here at
Diablo Somepage
, there is a wealth of interesting data to glean. We have expanded our Class Popularity guide with charts of data specifically about Diablo III accounts. There are three new
Accounts Statistics
charts that look broadly beyond a single Diablo III hero, and are updated daily as part of the charts and guides that we provide. One tidbit is that over 75% of the active Diablo III players do not have a single level live 70 hardcore hero.
Level 70 Heroes of Every Class
One data point displayed reflects the active Diablo III accounts who have at least
one level 70 hero of every class
. Many players stick to primarily playing a single class, or just a few of them. We wanted to see how many players take the time to level up
all six
of the classes to maximum level. The data for this can be seen in the chart above. Of the active Diablo III accounts, around 75% do not have the full group of all 6 classes leveled up to 70. About 24% of the accounts have leveled up at least one hero of each class. A tiny sliver of players have a massive amount of characters; around 1% of the accounts include two level 70 heroes of each class, for a total of 12+ level 70 heroes!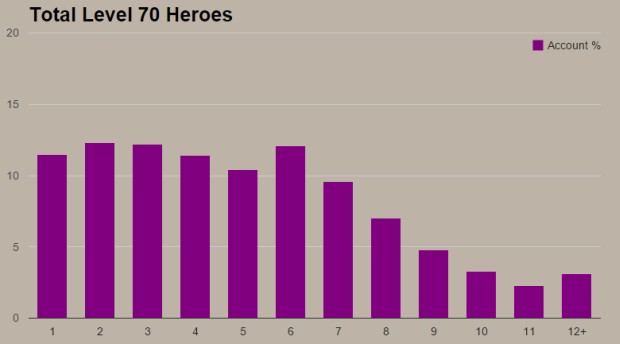 Level 70 Heroes Per Account
Another new chart looks at how many level 70 heroes are on active accounts. Keep in mind this is only of the accounts that have
at least one
level 70 character, so it does not include the large percentage of players who do not have any level 70 heroes. But of those accounts who do have at least one level 70 character, most players go ahead and level up some more heroes to 70.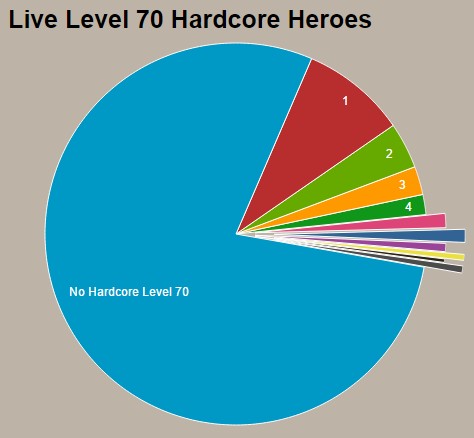 Hardcore Level 70 Heroes Per Account
This chart looks at how many active players are taking on the risk of hardcore characters. The vast majority of players do not have a live level 70 hardcore hero. Around 9% of the accounts have one live level 70, and smaller percentages have more hardcore heroes at 70. A tiny percentage of players have 10+ live level 70 characters. Of course there are
Hardcore Deaths
along the way up to level 70, although over 75% of hardcore characters do make it to max level these days.
The details of these daily updated charts can be seen in the
Accounts Statistics
section of the Class Popularity guide. Keep in mind that these charts over-estimate the Diablo III players who are highly active, whether in hardcore or leveling up characters to 70. There are many Diablo III players who do not ever level even a single softcore character all the way to level 70, and are not likely to be tracked in our database. You can check on the details of your own Diablo III account data in our database, or add it, with the
BattleTag Locator
.
We are looking at other interesting Diablo III data charts to add for the community. If you have any thoughts or suggestions, feel free to
send it along
.