Legendary Gem Popularity Now Charted
See the most popular Legendary gems for each class and across all the classes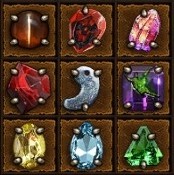 Legendary gems were a great addition in Diablo III patch 2.1, providing players with interesting boosts to their gameplay. Here at
Diablo Somepage
we are pleased to announce that we now fully track the stats and popularity of all 14 Legendary gems. Let's take a look at the status of Legendary gems currently in patch 2.1.1!
The data comes from the over 5 million Diablo III characters we profile from Diablo III players, to update our charts daily. Our new
Legendary Gems
guide has an overview of the statistics for each gem, and their combined popularity across all the classes. Each class section in the
Best Legendary and Set Items
details all the Legendary gems for the class, and each gem was given an individual page with statistics and popularity charted.
See the
Legendary Gems
guide for an overview and popularity for all the classes combined, or view the popularity by class:
The Legendary gems popularity charts will change over time as more players are able to get Legendary gems, and find solid jewelry with sockets for them. The total usage numbers in the charts would reach 300% if everyone had 3 Legendary gems equipped, and they are lower than that. Future patches will also bring
new Legendary gems
, to provide more options for the different playstyles of Diablo III.
Here at
Diablo Somepage
we will continue to track the gem usage and expand the data available. The statistics and
Legendary Gems
guide will be expanded with more info over time. Feel free to
leave us feedback
with any suggestions.
Get the latest Diablo III news as it happens, and find out about our new charts and guides. Follow Diablo Somepage on Twitter, Facebook, or Google+ for updates.