Season 1 Starts on Friday
Plus updated charts of Diablo III class popularity and Paragon Levels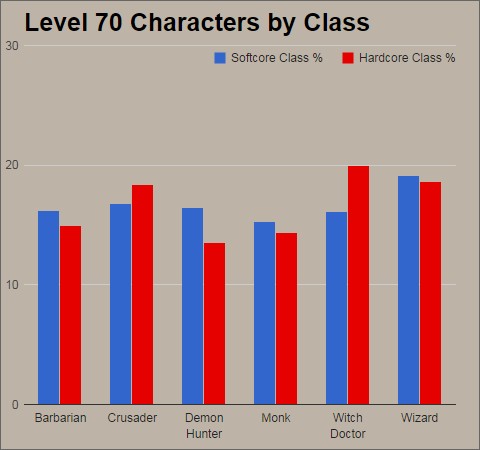 As Diablo III
Patch 2.1
arrives today, the date has been set for the start of Season 1. The first Diablo III Season will start this Friday, August 29, rolling out throughout the multiple Diablo server regions. Here at
Diablo Somepage
, we also have updated charts of the class popularity in Diablo III, of all the characters who have been active since the
Reaper of Souls
expansion arrived back in March. Let's take a look!
Season 1 Starts on Friday
One of the big new features in patch 2.1.0 is
Seasons
, where players can start new characters that are entirely separate from the non-Seasonal account. There are leaderboards to rank players in Seasons, and special Legendary items that will only drop in the Season. The first season is scheduled to launch this Friday, August 29. It will roll out at different times depending on the region. The exact end date for Season 1 has not yet been listed, but the developers have stated that it will probably last
around 3 months
.
Update 8/29 @ 6PM PT:
Season 1 is now live worldwide!
--------------------------------------------------------------------------
Greetings, nephalem!
We're pleased to announce that our first Diablo III Season is scheduled to begin this
Friday, August 29th
. To ensure the roll-out process goes as smoothly as possible for all players, we're planning both a delayed and staggered release, with different gameplay regions launching the season at different times after patch 2.1.0 ships.
For reference, below are the current launch times for Season 1:
Asia:
9:00 a.m. PDT (August 30 at 1:00 a.m. KST, UTC +9)
Europe:
12:00 p.m. PDT (9:00 p.m. CEST, UTC +2)
Americas:
6:00 p.m. PDT (UTC -7)
For time zone assistance, visit:
http://everytimezone.com/
To learn more about Seasons, visit:
http://bit.ly/1rBFf9D
Please note that these times are tentative and subject to change. If they do, we will be sure to update this thread.
Thanks!
Diablo III Class Popularity Ranked
Here at
Diablo Somepage
we have
charts and guides
for many aspects of Diablo III. The guide for
Diablo III Class Popularity
has now been overhauled to reflect all the latest data. That includes popularity of the classes during the leveling process, and at level 70. It also shows the Paragon Levels that Diablo III players have obtained. The data is pulled only from characters who have played since the
Reaper of Souls
arrived back in March, and will automatically update to include characters playing in patch 2.1. The chart above shows the class popularity at level 70 right now. So far the Wizard class has been the most popular overall, although other classes do specifically well in softcore or hardcore mode. We will see who takes the lead in patch 2.1!
You can use the
Add a BattleTag
section to find your own Diablo III PC BattleTag. If we don't yet have data on it, add your BattleTag and it will become part of the data that we track for over 4 million Diablo III characters.