Cross-Brand Character Transfers in Ultimate Evil Edition
The upcoming console Diablo III on PS4 and Xbox One can import characters from PS3 and Xbox 360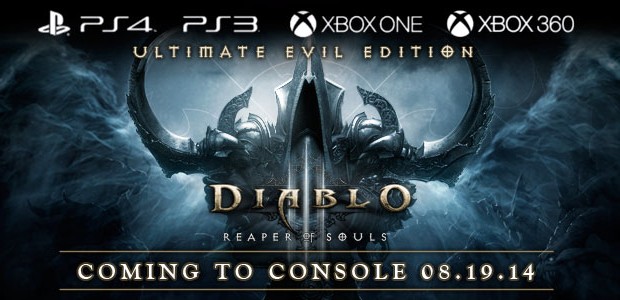 The upcoming
Diablo III: Ultimate Evil Edition
release is a new version of the game, that builds on the previous standard Diablo III console game. The UEE on the next-gen
PlayStation 4
and
Xbox One
will be able to import older Xbox 360 and PS3 character saves, whether they are from the same brand or across platforms. This will allow players who have switched console brands to still transfer characters that they played on the original console Diablo III. Blizzard also announced that the PS3 and PS4 versions of the game can now be pre-purchased digitally from the PlayStation Store, to jump into the game as soon as it is released on August 19.
Cross-Platform Character Transfers
Lylirra provided initial info on the character transfers that will be available in the
Ultimate Evil Edition
. This will involve a patch after the game is released, and setting up a Battle.net account to transfer the character saves. More details about the process will be provided after that console
Ultimate Evil Edition
patch has been released.
Just to confirm, in an upcoming console patch for PS3 and Xbox 360, we'll be enabling what we're calling "cross-brand" or "cross-generational" transfers for Ultimate Evil Edition. As the name suggests, these transfers will allow players to copy their character save data across brands and across platform generations.
We'll have more details to share once the patch is live, including how to complete a transfer with step-by-step instructions and how Battle.net account linking works. In the meantime, here's a quick list of what's supported:
PS3 > Xbox One
Xbox 360 > PS4
PS3 > PS4
Xbox 360 > Xbox One
The goal of cross-brand/cross-generational transfers is to support players who may have switched brands when next-gen systems were released for PlayStation and Xbox, but don't want to leave their progress from original Diablo III behind when upgrading to Ultimate Evil Edition.
As a follow up to that, please note that the following cross-platform transfers will
not
be supported:
Xbox 360 > PS3
PS3 > Xbox 360
For same-platform upgrades to Ultimate Evil Edition (PS3 > PS3 and Xbox 360 > Xbox 360), your character save data will be automatically loaded once the game is installed. No additional steps needed!


Of course this does NOT mean we'll be able to use our PC characters on console.
Correct. :)
Read on for details on pre-purchase of the game on the PS3 and PS4.
Prepare your living rooms. The end is near. . . .
Diablo® III: Reaper of Souls™ - Ultimate Evil Edition™ launches August 19, 2014 on PS3™, PS4™, Xbox 360®, and Xbox One®. Join the crusade against death today by pre-purchasing the game digitally on the PlayStation®Store!
Note: Ultimate Evil Edition is not available for digital pre-purchase on the Xbox 360 or Xbox One, but you can prepurchase a physical copy at select retail locations today. Visit www.diablo3.com/console for details.  
---
Secure your digital copy today and you'll also receive the following in-game items:
The Infernal Pauldrons, a unique shoulder wearable at level 1, these devilishly handsome shoulder plates provide bonuses to Vitality, Life per Second, and Cooldown Reduction, and are primed and ready for transmogrification
Arma Mortis and Arma Haereticorum, two exclusive collections of helm and weapon transmogrification recipes to distinguish your hero among the champions of Sanctuary
Liber Canis Mortui, an ancient scroll that will summon a loyal Spectral Hound minion to keep your adventurers company
Three additional character slots to accommodate your new nephalem
Players who take the fight for Sanctuary to their big screen TV on the PS3 or PS4 will also enjoy exclusive content based on two popular PlayStation games!
The Last of Usâ"¢ Nephalem Rift, a new randomized dungeon level teeming with ravenous creatures modeled after the infamous Stalker, Clicker, and Bloated infected and infused with an ominous yellow spore effect
The Guise of the Colossi, a unique transmogrification plan that unlocks six armor appearances inspired by Shadow of the Colossusâ"¢
The fate of Sanctuary rests in your hands, nephalem. Ultimate Evil will be out before summer's end, so lock in your preorders, grab your favorite demon-slaying friends, and get ready for one hell of a party.