Legendary Gems in Patch 2.1 Buff Amulets and Rings
Travis Day talks Patch 2.1 content including Tiered Rifts, Season Legendary items, and Hellfire Amulets (Updated)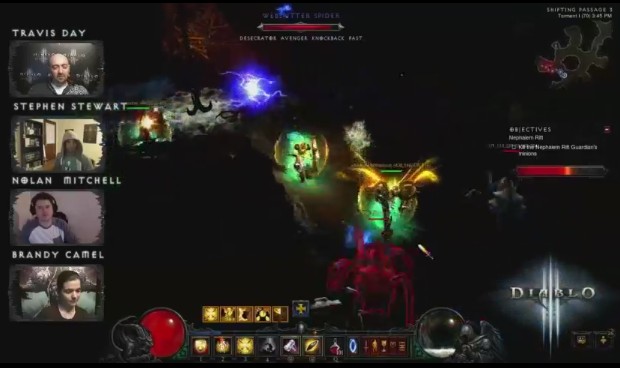 Diablo III
Patch 2.1
is bringing a slew of new content, and developer Travis Day provided details about many pieces of it in the first
Theorycraft Thursday playthrough
livestream. There will be Legendary gems coming in patch 2.1, that will be useful in socketed rings and amulets. The patch will also bring a Hellfire Amulet that provides a random 5th passive skill, crafted up much like the current Hellfire Rings. Read on for the details of what was covered on the stream.
The livestream was run by community manager Brandy "Nevalistis" Camel, joined by Stephen "Leviathan" Stewart, Nolan "Monstrous" Mitchell, and developer Travis Day. They were all running Crusaders and went over the Crusader build that Leviathan had provided for a previous
Theorycraft Thursday
.
Watch the full video of the Twitch livestream, or check out the details below.
Here are the most interesting details from the livestream, grouped together by theme. Select the timestamp at the end of each topic to jump directly to that spot in the video.
Items and Crafting
Update: See the
Legendary Gems
guide for details on the powerful jewels added in patch 2.1!
Seasons and Tiered Rifts
Seasons and Tiered Rifts - Tiered Rifts are a ton of fun. It's a "very clean experience", as you don't worry about picking up items, but are just trying to kill everything as fast as you can, optimizing how you play the dungeons. (10:40)
No items drop from monsters in Tiered Rifts - Nothing drops normally in a Tiered Rift, but the boss at the end drops all the loot. The bosses have a really, really high chance of dropping legendaries and gems, crafting materials, etc. The developers didn't want players to worry about inventory management while trying to race a clock. So there's nothing on the monsters, but lots of loot and the scoreboard at the end. (11:26)
Developers are playtesting Tiered Rifts daily - They have meetings multiple times a week to playtest and tune up Tiered Rifts. They are trying out assorted Tiered Rifts, in groups and solo, testing the leaderboard. Tiered Rifts are not going to be static dungeons, as they had initially talked about. They are random like normal Rifts, but the developers are working on toning down the amount of randomness that can impact the time getting through a Tiered Rift. They have recently been testing things like reducing the power of Conduit Pylons in Tiered Rifts, so that the people at the top of the leaderboards aren't there just because they got lucky with powerful pylons. They are also changing how the bar in all Rifts fills up, basing it on the monster's hit points so people don't skip hard monsters. (59:25)
Builds and Development
Unexpected Builds - Thinking about builds or item combinations that the players made popular that he wasn't expecting, Travis Day mentioned the new Fire Crusader build. Doing the tuning pass for Crusaders in patch 2.0.5, they balanced out the numbers to where they looked correct, and waited to see what people would make popular. He expected there would be a Fire build, but not that it would involve

Darklight

and

Fist of the Heavens

. (28:30)
Developing Legendaries - When asked if the developers know about builds or item combinations that players haven't figured out, Mr. Day said the players have had their hands on the everything enough to figure it out. Between the drop rates and Kadala, players have reliable access to everything; they've felt out where the builds are, and aren't. For the developers, it's finding out what everyone uses; figuring out what builds work, and what builds maybe don't work because they need another item or two to support the playstyle. The developers spend a lot of time working in that design space: Like perhaps for the Witch Doctor, since the pet builds with Fetish are strong, and DoTs are in a good place, what about nukes - maybe they need items that support skills like

Acid Cloud

. (29:37)
Other Topics
Updated Friday, June 13 7:46PM EDT
- This news was updated to more accurately reflect the discussion, filling in all the major topics along with video links. We'll cover further
Theorycrafting Thursday
livestreams, that are scheduled to continue every 6 weeks or so. Before that,
Patch 2.1
will be arriving on the PTR, and we'll have all the details for it!
Catch all the latest Diablo III news as it happens, and useful charts and guides for the game! Follow Diablo Somepage on Twitter, Facebook, or Google+ for updates.