'Diablo III: Ultimate Evil Edition' Pre-Order Available
Pre-orders of the new console Diablo III provide Infernal Pauldrons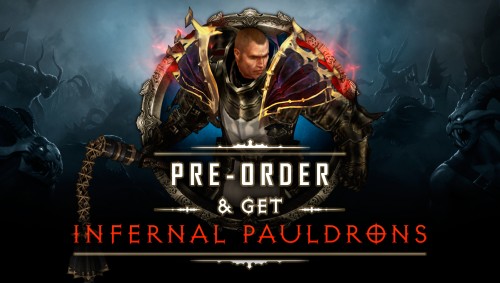 The next big release for Diablo III on the console is
Diablo III: Ultimate Evil Edition
. It arrives on August 19, 2014 and is now available on all four consoles for
pre-order at Amazon.com
. All pre-orders of the game will receive the in-game item Infernal Pauldrons, seen above.
The suggested retail price is lower for the older console editions of the game, than on the PS4 and Xbox One. The game on the
PlayStation 3
and the
Xbox 360
has a list price of $39.99, while the
PlayStation 4
and the
Xbox One
versions have a higher suggested retail price of $59.99.
The
Ultimate Evil Edition
includes the content from the
Reaper of Souls Expansion
, and the updates through PC Diablo III patch 2.0.4. It also includes
special social features
specific to the console version of Diablo III, action combat, co-op loot, and touch pad & light bar support. Any characters from the older standard version of Diablo III on the console will be able to
transfer to the new edition
: PS3 characters from the original game can transfer to either the PS3 or PS4 version of the
Ultimate Evil Edition
, and Xbox 360 characters can be transferred to the Xbox 360 or Xbox One version.