Watch the Diablo Anniversary Livestream VOD
Info on Diablo III development from Josh Mosqueira and Wyatt Cheng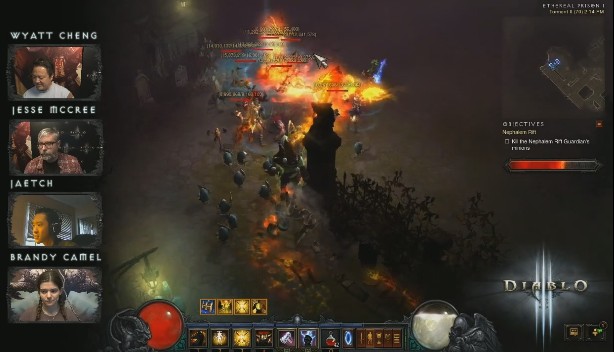 Part of the week-long celebration of the second Diablo III anniversary was a Twitch.tv livestream. It included members of the Diablo III developer group, producers, artists and more, along with community streamers, all hosted by community manager Brandy Camel, aka Nevalistis. A full VOD of the livestream is available to review.
The entire stream is 5 hours long, with 4 different sets of interviews. It has been broken down into separate segments for easy viewing. Here is the first hour, focusing on Diablo III system design.
Read on to see all the other videos!
On May 15th, several members of the Diablo III development team and I partied up with a handful of community influencers and rumbled our way through Reaper of Soulsâ"¢. Brought together in celebration of Diablo III's second anniversary, we slaughtered demons, found amazing loot, and answered some of your questions!
If you weren't able to join us for the festivities, don't despair. Check out the VODs embedded below or click here to view the livestream directly on Twitch.
---
1st Hour - System Design
Featuring:
Wyatt Cheng (Senior Technical Game Designer)
Jesse McCree (Lead Content Designer)
Jaetch (Community MVP)
Jaetch's keyboard
Carrying me on their Witch Doctor duo, Wyatt and Jesse shared some details with Jaetch about Seasons, Tiered Rifts, class balance, and design philosophy! Jaetch's keyboard featured as the fifth member of our party.
---
2nd Hour - Art Design
Featuring:
Neal "Barrel Master" Wojahn (Technical Artist)
Kevin K. Griffith (Senior Artist)
Thunderclaww (Reddit Diablo moderator)
Neal and Kevin shared their experiences with designing interactive items, lighting design, and The Battering Ram event. Information on the upcoming Barrel level is not yet available*.
*By "yet" we mean "at all."
---
3rd Hour - Lore & Story
Featuring:
Brian Kindregan (Lead Writer)
Leonard Boyarsky (Senior World Designer)
Neinball (BlizzPro Editor)
Neinball tagged along with Brian, Leonard, and I as we toured Act V in Westmarch, talking about our favorite aspects of the story, voice over casting and fun facts (featuring JB Blanc), and clarifying some loose ends sprinkled throughout Diablo lore.
---
4th Hour - Game Direction & Production
Featuring:
Josh Mosqueira (Game Director)
Rob Foote (Senior Producer)
Archon the Pizza Chef (Twitch Streamer)
Josh and Rob reflect back on their experiences working on Diablo while Archon ponders the possibilities of changing his class to Pizza Chef. We talk about where Diablo has come from, and what sort of goodies might be on the horizon.
---
We were so immensely grateful for the warm reception, great questions, and equally awesome company. On behalf of the Diablo team, thanks so much for celebrating this wonderful anniversary with us!
Update May 20, 2014
- Updated with the YouTube videos.