Interviews with Andrew Chambers and John Yang
A busy week with the developers, and a new hotfix for the PTR/Beta realm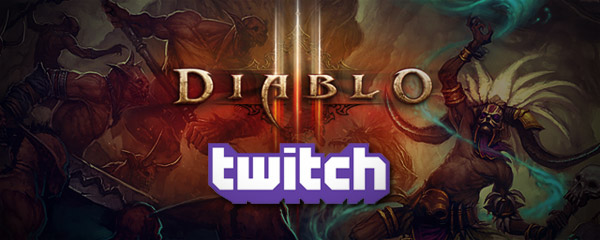 The Diablo III developers are continuing a busy week of community live chats. We have already seen
chats with Wyatt Cheng and Travis Day
, and last night the voluble Andrew Chambers was part of another Twitch gameplay chat. Coming up tonight is a chat with developer John Yang, the current lead for the Barbarian and Demon Hunter classes. That will run from 5pm-6pm Pacific, or 9pm-10pm Eastern time, and can be
watched live
. If you want to recap last night's chat, here's a video of Andrew Chambers in conversations about the new Crusader class for
Reaper of Souls
, crafting, and the Infernal Machines event.
On Wednesday, game designer Andrew Chambers joined ZiggyD, Qelric, and Thunderclaww from Reddit Diablo for a one-hour playtest in the Reaper of Soulsâ"¢ beta. As with Wyatt's and Travis's playtests, the goals of this particular session were pretty simple: jump into the beta with three different members of the Diablo III community, play around with some of the expansion's new features, and enjoy a bit of casual conversation with fellow heroes of Sanctuary. The topic of that conversation exactly? Crusaders, crafting, and the infernal machine -- oh my!
If you weren't able to catch this playtest with Andrew streamed live, you can still check out the VODs of the session here:
We've also embedded Thunderclaww's VOD below. Check it out!
We'll be hosting similar playtests system designers John Yang and Don Vu as well (today and tomorrow, respectively),  so be sure to stay tuned!
*A big thanks to ZiggyD, Qelric, and Thunderclaww for all your great questions. <3
---
Previous Dev Playtests:
Hotfix on PTR and Beta Realms
The testing continues on the Public Test Realm for patch 2.0.1, and the Closed Beta for the expansion. Here are the recent
hotfixes for the Closed Beta
; there are similar hotfix changes on the
patch 2.0.1 PTR
.
[UPCOMING HOTFIXES]
Defender of Westmarch: Fixing an issue where the Legendary affix wolf spawned would not pierce targets
[LIVE HOTFIXES]General:
Chests should no longer spawn directly adjacent to waypoints
Treasure Goblins can once again spawn an uninterruptable portal if they aren't slain quickly enough
Monk:
Mystic Alley (Earth Ally): Resolving an issue where the active portion of this ability would persist and behave erratically when changing zones
Wizard
Mirror Image: Fixed an infinite loop that could occur with Mirror Image when Archmage's Vicalyk was equipped
Followers in Adventure Mode
Once unlocked, the new Adventure Mode allows characters of any level to jump into game features like Bounties and Nephalem Rifts. Earlier in the testing on the beta, lower level characters in Adventure Mode could not access all three of the followers. The intent is that even level 1 characters will be able to jump in and play with whichever follower they wish.


Why do I have to run the campaign to unlock the followers on a new character? Everything else is already unlocked in adventure mode, why can't the followers be as well? I really don't want to run the campaign through act 2 just for that.
Good news! Characters starting in Adventure Mode have access to all of the followers from level one, and you won't need to play campaign mode to have access to them in Adventure Mode.


Wait, was the change reversed and you can now play Adventure Mode without playing the Story at all?
You'll still need to complete the campaign mode at least once in order to unlock Adventure Mode, but once it's unlocked all of your characters of that game type (Normal or Hardcore) will be able to access it, even brand new ones.