Travis Day on Twitch.tv Tonight
A live stream with the Diablo III developer from 6pm-7pm PT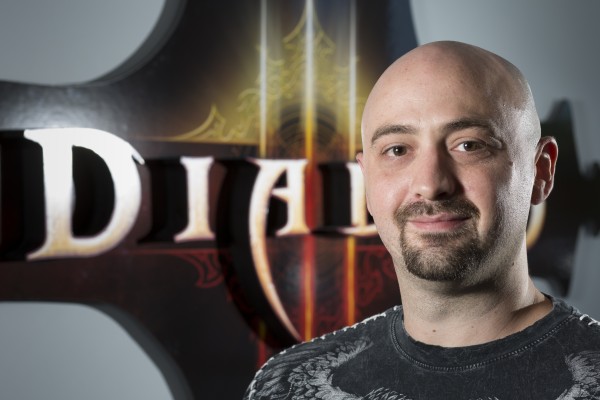 The Diablo III developers are nearly finished with patch 2.0.1 and the 'Reaper of Souls' expansion. They are taking some time to have public discussions with the community about all the big changes in the patch and expansion. Late last week we a Twitch.tv live gameplay session with developer Wyatt Cheng, talking to three streamers. Tonight it will be Travis Day taking part in a live stream, playing the game and chatting about it. The live stream will happen from 6pm to 7pm Pacific time, which is
9 to 10pm Eastern time
.
Here's a video of the last stream, with Wyatt Cheng.
Travis Day has been dealing with the Loot 2.0 itemization for nearly a year, and we're likely to hear details about how that all turned out, in the stream tonight. Here's the announcement:
Hey again!
Just wanted to drop a quick note to let you all know that Travis Day will be hanging out with the folks from Diablo Fans this evening from 6:00 p.m. to 7:00 p.m. PT. He'll also be joined by MVPs Monstrous and Druin to chat about the upcoming patch 2.0.1 and, of course, Reaper of Souls.
Be sure to tune in to catch the stream live over at
http://www.twitch.tv/diablofans
, or stay tuned for links to the VOD in the coming days. :)
If you missed the live play session with Wyatt Cheng, Archon the Wizard, Moldran, and MVP Jaetch, you can check that out here:
http://www.youtube.com/watch?v=9UFV9XSYbeU


Make him play a Demon Hunter IMO.
John Yang will be playing a Demon Hunter whenever his play session comes around. Looks like Travis may play a Barbarian, though. He still hasn't made up his mind, the cheeky bastard. :P


Can you ask him to please give the crusader what it got at the beginning of Beta, not that poor nerfed version of him. speaking of nerfs, please stop it :)
Keep in mind that different developers each have a different focus. For example, Wyatt's focus is the Witch Doctor, combat pacing and difficulty scaling, and the Mystic. Travis's focus is on itemization, but he's also played a big part in crafting the Paragon system.
While the systems designers (Wyatt, Travis, Don, Andrew, and John) all wear many hats and function as a team, it's going to be easier for each of them to talk about their focus. Or, rather, they're going to be able to speak much more in depth about those areas than others. So, if you're looking for insightful or really detailed answers, then it's best to ask questions that are tailored to each designer -- in this case, Travis.
I hope that makes sense! We'll be setting up play sessions with each of our system designers throughout the week, so there will definitely be other opportunities to bring up questions, concerns, or ideas.
Update:
Travis Day did indeed talk a lot about itemization, and the many new and updated Legendary items in the Loot 2.0 patch. A recording of the Twitch livecast with Travis Day can be viewed
here
.