Diablo III Sales Break 15 Million
Blizzard Activision Q4 2013 report announces the new sales milestone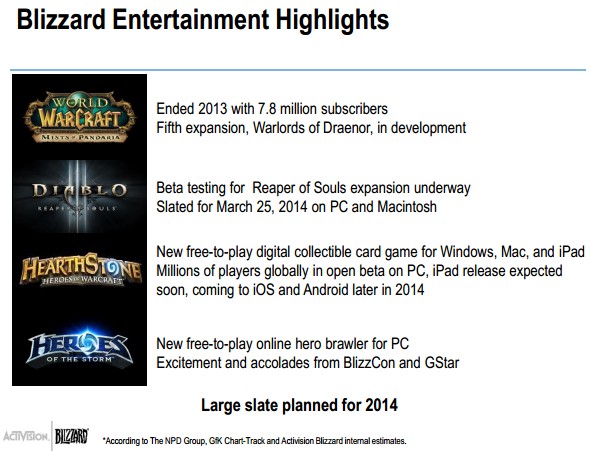 Diablo III has now sold more than 15 million copies across all platforms since release, and World of Warcraft is back to gaining subscribers, from data provided in the Blizzard Activision Q4 2013 earnings report. The quarterly report gave details on upcoming releases by Blizzard Entertainment, along with a review of 2013 for Activision Blizzard. Here are specifics for each of the major Blizzard franchises, including comments made by Blizzard Entertainment CEO Mike Morhaime during the earnings report conference call on February 6, 2014.
Diablo III
Diablo III ended 2013 with over 15 million units sold through cumulatively across all platforms (PC/Mac, Xbox 360, and PlayStation 3).
That is a new record, up from the 14 million copies that had been sold as of the end of October 2013.
The franchise will see more sales this year, with the release of the Reaper of Souls Expansion on March 25, 2014 for PC and Mac, followed by Diablo III: Ultimate Evil Edition for the PlayStation 4.
Morhaime: We had some exciting news for Diablo III: Reaper of Souls in Q4. The game will ship for Windows and Macs on March 25th, and we began taking pre-orders in December. We also kicked-off beta testing in December, and feedback from players has been positive.

The expansion will add a new class, the Crusader, as well as new areas for players to explore, and new features like Adventure Mode and Nephalem Rifts, which enhance replayability.

An overhauled loot system will make playing and collecting gear even more satisfying.

We're also removing the Auction House from the game on March 18th, a change that has been welcomed by players.
World of Warcraft
World of Warcraft actually gained a small number of subscribers in Q4 2013, and ended the year with 7.8 million subscribers.
That is up slightly from the 7.6 million subscribers that the game had at the end of Q3, although still far down from the peak subscription numbers.
Morhaime: Before we look ahead, let's review World of Warcraft in Q4. Global subscribership in the quarter ended at 7.8 million subscribers worldwide, and slightly above where we ended in Q3, meaning that the player base has remained pretty stable for three successive quarters. We attribute the strength in Q4 to a few factors: The excitement from BlizzCon, seasonality from the holidays and a refresh of the Recruit of Friend program which offer special pets and mounts to players who bring friends into World of Warcraft.

As we head into Q1, we are not going to benefit as much from the same factors that drove Q4. So we will continue to work ways to drive engagements as we move closer to the release of the next expansion.

Warlords of Draenor will reintroduce players with some classic settings and characters from our Warcraft strategy games. In addition to a new continent and new dungeons, Warlords will include Garrisons, which are personal fortresses within the game. Players can collect computer-controlled followers to work in their Garrisons, customize their fortress with structures for special benefits and invite friends to explore their personal piece of Azeroth.

Players will also get the ability to instantly boost one character to level 90 when they purchase the expansion. We recently announced that players will get access to this boost when they pre-purchase the game. So, they will be able to enjoy their new max level character right away in Mists of Pandaria. We think that this is a great feature that will make it easier for friends to play together in World of Warcraft. It's also attractive for veteran players, who have already experienced the leveling process multiple times and want to quickly raise a new character to do end-game content.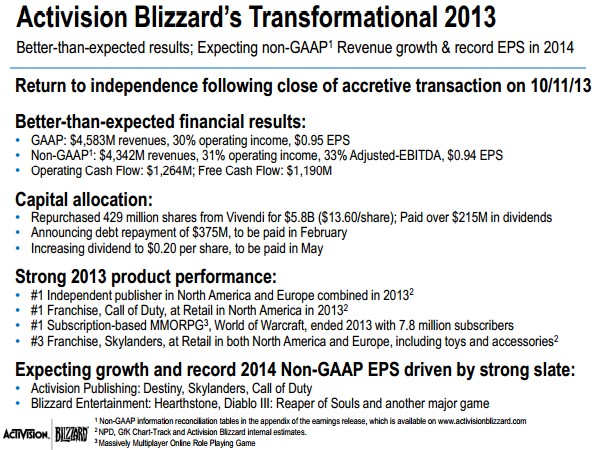 Blizzard is scheduled to release three games in 2014, including a "major game" that may refer to the new World of Warcraft expansion.
Hearthstone
Access to Hearthstone was recently expanded as the game reached open beta. According to Activision Blizzard CEO Bobby Kotick, the game has attracted "millions of players in both the West and in China with strong engagement and monetization. Hearthstone is on track to join the World of Warcraft, Diablo and StarCraft as Blizzard Entertainment's fourth mega franchise."
Kotick also noted the move onto mobile platforms with Hearthstone. "In 2014, we plan to launch Hearthstone on tablets and smartphones. This is the first for Blizzard, and it will enable fans around the world to play Hearthstone on hundreds of millions of additional devices. In many countries, the mobile Internet is the fastest growing interactive entertainment platform and Hearthstone is well positioned for great success."
Morhaime: I'd also like to talk a bit about Hearthstone, our free-to-play digital collectible card game. Players build decks of cards that consist of familiar spells and creatures from World of Warcraft and battle against other players using the cards. Players can collect new cards, simply by playing the game or purchase cards with real currency. Entry into a special game mode called Arena can also be purchased with in-game gold or real currency. Millions of players across North America, Europe, Asia Pacific and Latin America participated in Hearthstone's closed beta test. And a couple of weeks ago, the game transitioned into open beta, which means that anyone can now download the game without any special invitation.

Concurrently across the globe, it has grown steadily since open beta started. And Hearthstone continues to be one of the most popular games watched on Twitch. The launch of open beta is a great follow-up to the success we had at BlizzCon, while a 100,000 concurrent online viewers watched the finals of our Hearthstone invitational tournament. We also announced at BlizzCon that we're working on an iPhone and Android versions of the game, which we expect to ship this year. In the near term, we hope to quickly transition into launching on iPad.
Heroes of the Storm
Heroes of the Storm is another free-to-play Activision Blizzard game that Kotick said the company expected to have "enormous potential" for growth down the road.
Morhaime: At BlizzCon, we also announced Heroes of the Storm, a new free-to-play online team brawler. Players can choose from an array of iconic Blizzard characters, customize their abilities and team up with friends to battle other players. Heroes takes a more fast-paced accessible approach to a genre that has grown extremely popular in online gaming over the past few years.

Players and fans were very excited about the game at BlizzCon. We also showcased Heroes at G-Star in Korea, where it was named Most Anticipated New Game by a poll at G-Star.
StarCraft II
StarCraft II: Heart of the Swarm continued the sales streak mentioned in the Q3 2014 report. The expansion was the best-selling retail PC game in North America, for all of 2013.
Morhaime: The StarCraft II: Heart of the Swarm expansion was the number one selling PC game at North American retail last year. And a couple of weeks ago, we made the StarCraft II Arcade available to anyone via the free starter version. We're hoping the change will encourage new players to try StarCraft II and bring visibility on the thousands of user-made games and maps created using our in-game tool.

Since the patch, we are seeing increased player engagement. Going forward, we are continuing our esports effort with our World Championship series. And we're hard at work on the final chapter to the StarCraft II saga, Legacy of the Void.