Loot 2.0 Patch Test Coming 'Soon'
The Public Test Realm will be opening soon for Diablo III patch 2.0.1
Reaper of Souls Expansion
is currently being tested in a restricted Friends & Family beta. Apart from all the changes coming in the expansion, there is also a large Diablo III patch that will be released shortly before the expansion. That is the long-awaited
Loot 2.0 Patch
, and it will be arriving on the Public Test Realm "soon", according to recent Blizzard Blues posts.
Patch 2.0.1 Coming to the PTR
The
Loot 2.0 Patch
is technically called patch 2.0.1. There were multiple Blizzard Blue discussions about that patch arriving soon on the test realm. When it does arrive, all Diablo III players will get to test out the Paragon 2.0 system, Loot 2.0, and the many skill changes and other features.
Archery Passive & One-Hand Crossbows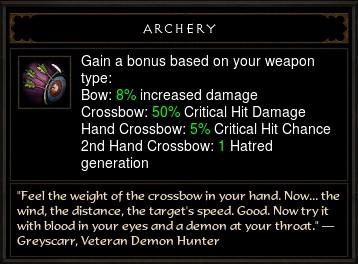 The Demon Hunter passive skill
Archery
is being changed in the upcoming patch, and now includes a bonus when dual-wielding One-Handed Crossbows. Grimiku clarified how it works: when using the passive, a Demon Hunter dual-wielding 1-Hand Crossbows receives the extra bonus of 1 extra Hatred, each time a regular Hatred Generator skill is used. This is a change to make it more worthwhile for Demon Hunters to dual-wield and forgo using a quiver. As seen in the
Popular Demon Hunter Weapons
charts, currently very few top Demon Hunters dual-wield Hand Crossbows.
No Combo Pack for 'Reaper of Souls'
The upcoming Diablo III expansion will be an entirely separate purchase on release, for the PC/Mac versions of the game. This is different from
Diablo III on the PS4: Ultimate Evil Edition
, which will contain both the base version of the game the expansion.
The newest Blizzard blue posts are always available right away in our
Blue Post Tracker
or in the
RSS feed
.