Matthew Berger on the PS4 Edition of Diablo III
Developer thoughts on bringing Diablo III to the next-generation console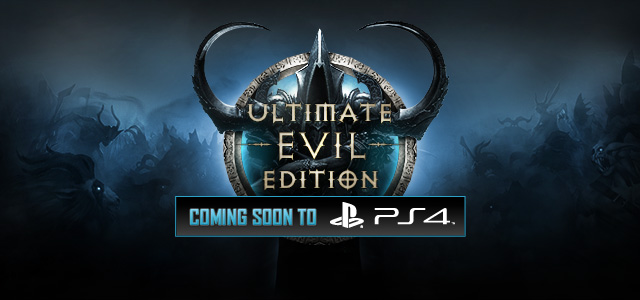 While the 'Reaper of Souls' expansion and beta test is taking up a lot of the limelight recently, the work also continues to bring Diablo III to the PlayStation 4. Diablo III developer Matthew Berger
chatted with AusGamers
about the development of the expansion, and getting the game to the PS4.
Berger is a senior level designer on the console Diablo III team, and the interview was mainly focused on the development of the game for the PS4. The topics discussed include: why Diablo III players on the consoles can't play with PC/Mac characters; new social features only for the PS4 version of Diablo III; the process of porting Diablo III from the PS3 to the PS4.
Here's one interesting exchange about the dual development, for the expansion and the PS4 version:
AusGamers: In terms of mastering and what you want to meet for the release, are you there now and just iterating, or is there still room for additional content and features?

Matthew: The team is also working on Reaper of Souls for PC; some of us are also helping out on the PC side and we want to make sure that the PC side gets finished and is awesome. Because once Reaper of Souls on PC is awesome, then naturally The Ultimate Evil Edition is just going to be awesome itself, because it has a lot of that content.

But the development is staggered, so that allows us to do things like avenger kills; it allows us to do things like player mail and player gifts, and it allows us to do a few other things we're kind of thinking of -- that we're not talking about yet, but [are] kind of on our radar -- we're going "yeah, let's try and do that", because we are staggered so we have a bit of longer time. And as Reaper of Souls gets completed, we're going to be able to lean a little more on some of the resources from PC -- their engineers, their designers, the artists -- on that side of the team are going to be able to help us out a little bit.

AusGamers: The reason I ask, is because I thought of a way that you guys could actually combat the lack of PvP, and that is: by adding… because you've got adventure mode, and you've got the Nephalem stuff -- which is all really cool -- but they're still dungeon-crawling, which is the heart of the game. But some people want that small arena challenge. Why not do a PvE horde mode?

Matthew: I'm going to tell you why. I'm going to go completely off script (and the PR guy is looking at me like he's going to throw stuff at me). I'm not going to say that we haven't thought about it -- it is a very natural inclination -- but doing that is not easy, and the reason it's not easy is not because of getting it in and getting it fun -- that's probably doable -- it's getting it in, and getting it fun, and getting it done to the level of satisfaction and polish that we expect of ourselves at Blizzard, is a completely new endeavor.

If and when we do something like that, it's going to be Diablo III as a whole team that's going to be a path I would want to go "as we're finishing Ultimate Evil Edition, we're going to add this feature" [but] it would not be polished to the extent that we would be happy with it, and we would not want to deliver that to the players.

Read the
full interview
for more developer thoughts!