BlizzCon Merchandise Available to Everyone
Anyone can purchase the BlizzCon 2013 merchandise, through Sunday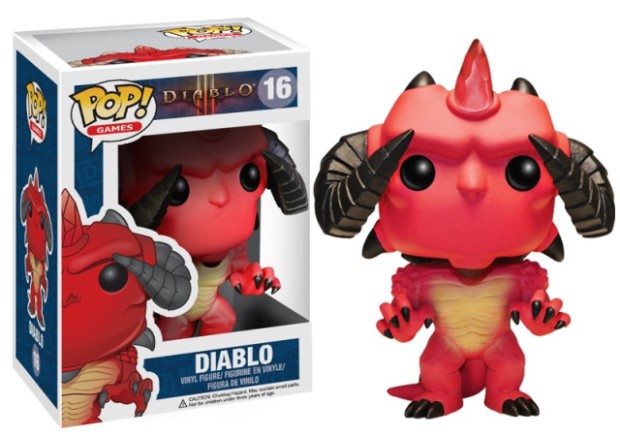 The merchandise sold by Blizzard at BlizzCon 2013 is now available for anyone to purchase, even those who did not attend or buy the Virtual Ticket. The products are only available for sale through this Sunday, November 17! The merchandise is being sold in a special section of the online
Blizzard Store
.
The merchandise for sale includes the Funko Pop Figures for Blizzard characters, featuring the Diablo figure seen above. As we
reported last month
, there are six new Funko Pop figurines being made for Blizzard characters. Four of them are being sold in this special BlizzCon 2013 extravaganza: the figures for
Diablo
,
Tyrael
,
Arthas
, and
Illidan
.
The figure being sold is the standard demon form of Illidan, but naturally not the limited edition
Shadow Illidan
figure that was distributed by Blizzard at the San Diego 2013 Comic Con.
Besides the Funko Pop figures, there are dozens of other merchandise products for sale, including t-shirts, magnets, car decals, art books, collector's steins, and much more! Check it out if you are interested in Blizzard-themed items; but hurry, this is only available through Sunday!
Here's the promotional email Blizzard sent about the products:
Another BlizzCon's come and gone, but there's still a chance to snag some cool commemorative Warcraft, StarCraft, and Diablo merchandise from the show. From now through November 17, anyone can purchase select BlizzCon 2013 merchandise directly through the online
Blizzard Store
- no need to have a BlizzCon ticket or Virtual Ticket in order to participate.
You'll find lots of other stuff too, including select items from past BlizzCon events, though keep in mind supplies are limited. Head to the online
Blizzard Store's BlizzCon storefront
now to begin browsing, or click
More Products > BlizzCon
from the Blizzard Store home page.
Shipping Note:
Orders will be shipped from the United States, so international shipping rates may apply.
Hurry, the merchandise sale ends this Sunday, November 17.
- Blizzard Entertainment