PS4 Diablo III Supports Remote Play on PS Vita
Diablo III comes to handheld consoles via a PS4 streaming to a PS Vita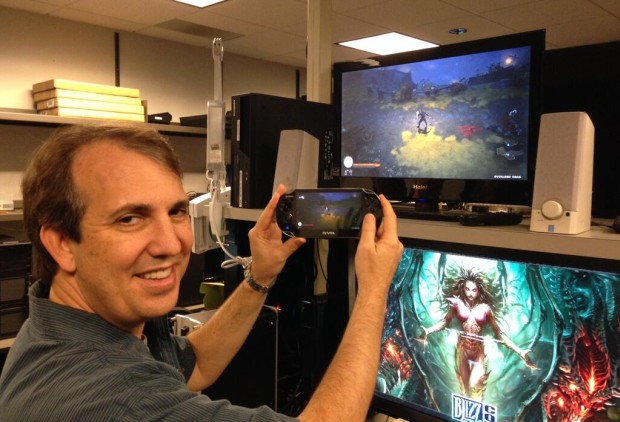 One of the standard features on the next-generation PlayStation 4 console is support for Remote Play with the handheld game console PlayStation Vita. The Diablo III console developers gave conflicting answers at BlizzCon this past weekend, when asked if Diablo III on the PS4 would be supporting Remote Play. Diablo III production designer John Hight
took to Twitter
to confirm that Remote Play is indeed supported on the PS4 version of Diablo III, showing the streamed gameplay in the picture above.
This was reiterated by Grimiku on the forums:
I just played Diablo III: Ultimate Evil edition on PS4, and used remote play on a PS Vita. It works!
The Remote Play feature allows gamers to stream a PS4 game on their handheld PS Vita screen, via local wifi. It was technically available for the PlayStation 3, but few games took advantage of it. With the PlayStation 4 Sony is pushing the idea, making it standard for games by default, with developers having to have a good reason to opt-out of it. The hardware of the PS4 does the work to stream a game in real time to the PS Vita.
In an earlier interview at BlizzCon
with CVG
, comments from the developers on the Diablo III console team pointed out the difficulties with playing Diablo III on the smaller screen.
According to Julie Humphreys, senior producer on the console version, "I would say we are in the earliest stages of looking at that. We want to make sure that it is readable and is a good user experience." Similar comments were made by senior level designer Matthew Berger. "The Vita is an amazing piece of kit, but the screen is still smaller. And also it has its own aspect ratio - and when you look at Diablo III, there's a lot happening on-screen already. You get surrounded by your enemies, lots of effects flying off in every direction. The inventory can be pretty complicated to navigate sometimes when you have lots of items."
The Remote Play feature is already working with the PlayStation 4. The PS4 edition of Diablo III won't be released until next year, after the PC release of Reaper of Souls. The console developers will no doubt be taking the time to iterate on the user interface and controls, so that Diablo III plays as well as possible on the PS Vita, via Remote Play.