Diablo III on the PS4: Ultimate Evil Edition
A look at Diablo III on the PlayStation 4 console, with a gameplay video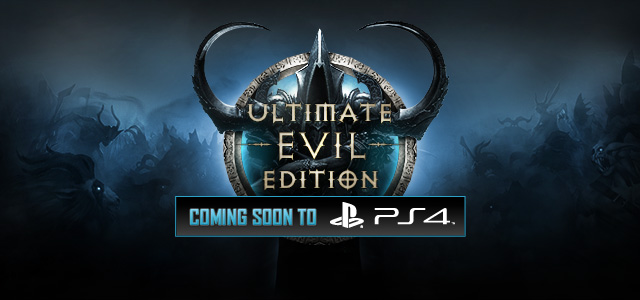 The
Reaper of Souls Expansion
isn't just coming as an expansion pack to the PC version of Diablo III. It will also be part of the Diablo III game, when that is released on the PlayStation 4 console. Blizzard is calling this the
Ultimate Evil Edition
of the game, and here's a gameplay video of the PS4 Diablo III, along with an overview.
Check out the Q&A at the end of the
BlizzCon 2013: Reaper of Souls Preview Panel
with game director Josh Mosqueira, for more info about the game on the PS4. Unlike Diablo III on the Xbox 360 or PS3, on the PlayStation 4 it will be a full 1080p game, and the developers are pushing to get it at a consistent 60fps. He also confirmed that characters from the PS3 version of Diablo III will be able to be imported right into the PS4 edition.
Many courageous nephalem have answered destiny's call and slaughtered thousands of demons since we first announced that the Prime Evil would be returning to Sanctuary on the PlayStation® 3. Now, it's time to begin a new journey on a brand new platform.
From these hallowed halls of BlizzCon® 2013, we're excited to reveal that Acts I-V will be wrapped together into one incredible and action-packed adventure when Diablo® III: Ultimate Evil Edition™ arrives on the PlayStation® 4!
Crush Demons & Thwart Death… From the Comfort of Your Couch
Diablo III on the PlayStation 4 brings a completely new experience to console gamers, delivering all the exciting updates and game-enhancing features premiering in Reaper of Souls on the PC. We've taken full advantage of the system's cutting-edge features with a custom-designed interface, touch pad functionality for the new DUALSHOCK® 4 wireless controller, and powerful social features tailored to improve your demon-slaying experience.
Vanquish your foes with the righteous might of the new Crusader class. Rise to new heights of power with an increased level cap, taking your hero to 70 and unlocking new skills (as well as a fourth passive slot) along the way. Befriend Myriam, the Mystic, to customize both the properties and appearance of your equipment. Explore endlessly with Adventure Mode, where all waypoints are unlocked and world itself is your battlefield. Hunt down objectives and complete all-new Bounties for legendary rewards. And don't forget to prepare for the slew of new monsters lurking behind every shadowy corner, awaiting a chance to rip your hero limb-from-limb!
Ultimate Evil in Anaheim
At BlizzCon this weekend? If you haven't stopped by yet, don't miss out on playing the Diablo III: Ultimate Evil Edition demo in Hall A of the Anaheim Convention Center! Wield a DUALSHOCK 4 controller for yourself and be sure not to leave any survivors behind.
For those of you at home or tuning in with our Virtual Ticket, we've got a special treat. Enjoy this first look at the new challenges awaiting you on the PlayStation 4:
Be sure to bookmark diablo3.com/console for more information about the Diablo III: Ultimate Edition, and stay tuned to BlizzCon.com for all the latest news and events from this year's convention!