BlizzCon 2013 Opening Ceremony
A live blog of the announcements and opening of the BlizzCon 2013 event
BlizzCon 2013 is opening with the big opening ceremony! We are watching the live stream and will be blogging it live for you.
Blizzard CEO and President Mike Morhaime chatted on the live stream, talking about the fun of the opening ceremony.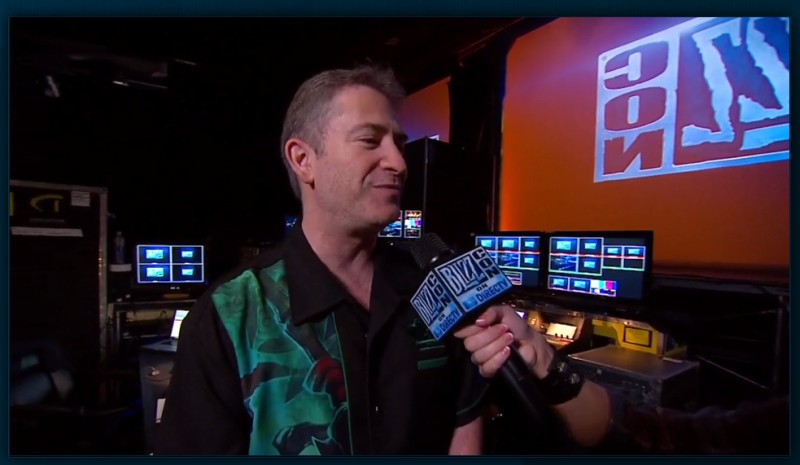 10:57AM PDT
- Just a few minutes now from the start!
11:00
- And we are live! The Blizzard executives are on screen, talking about how much they enjoy meeting with the fans and the fun of BlizzCon.
11:03
- Mike Morhaime is on stage, and the fun begins! He talks about how BlizzCon is really all about the fans, who share a love of the games, and talking with other passionate people.
11:05
- He thanks everybody for their support, after 22 years, of Blizzard's games. BlizzCon is their way of saying "thank you" back to the fans. He has learned over many years, that making good quality games is the hardest thing to do. Their passion is still going strong, and he encourages all the attendees to enjoy their time. "From everyone here at Blizzard, thank you for being here, and welcome home!"
11:09
- A video about the WCS championship happening here at BlizzCon, and the competition leading up to it.
11:10
- Reaper of Souls is playable here on the demo floor, on both the PS4 and the PC. The biggest change to Diablo is yet to come; they are getting rid of the auction house (big cheers). Reaper of Souls is bringing more loot systems to make the game more playable and more fun; they want to make it the ultimate monster killing and loot gathering RPG.
11:13
- Moving on to World of Warcraft. Mists of Pandaria was well received, and they are going to be going over the newest info for that. And we're on to new announcements!
11:14
- Now to a video, fast and furious of all the Blizzard heroes fighting... Heroes of the Storm! Dustin Browder is out, to talk about it.
11:18
- The Blizzard community has done so much, for this type of game. In 2010 Blizzard started with making a map on StarCraft II. Players loved it at BlizzCon 2010, and gave good feedback. So Blizzard worked on it further, so they updated it and did more with it for BlizzCon 2011. So they have kept working on it, and now it has become Heroes of the Storm.
11:19
- A video of the current alpha gameplay of Heroes of the Storm. "Nonstop Mayhem", massive MOBA combat with all the heroes. "Heroes of the Storm is
Blizzard the game
".
11:22
- Many of these heroes have their own stories and comic books, 10-15 years old. Blizzard wants to challenge the genre, what it can become. They have battlegrounds, not just maps. Blackheart's Bay: collect treasure that you give to an evil pirate lord, so he helps you. On another battleground you go to the dragonshire with a dragon altar, and one hero from your team is transformed into the dragon knight is an unstoppable demi-lord. All of this is playable today, at Blizzcon!
11:24
- Beta signups for Heroes of the Storm are going live, today. You can sign up for the beta, give them feedback, help create Blizzard's next big game.
11:25
- Heroes of the Storm has been inspired by BlizzCon, and all the feedback they've received over the years in it's many versions. From everyone at BlizzCon, thanks for that.
11:26
- Next up is Rob Pardo, Chief Creative Officer for Blizzard. He's up to talk about Hearthstone, the "stealth project" at Blizzard early on. Early on, even some people at Blizzard weren't sure a card battling game was going to be a big hit. Last September, they had the testing alpha internally. They had it playing for 3 weeks, people stayed late at and played over 5000 hours during that time.
11:28
- Hearthstone has a lot of firsts for Blizzard: first tablet game, first game that Blizzard announced and got to the public in the same year. Open beta is coming, next month. "In Blizzard speak, that might mean January, just warning you now."
11:29
- Everyone at BlizzCon, and anyone on the Virtual Ticket, are represented by a new Hearthstone card: the Elite Tauren Chieftain. All BlizzCon attendees are getting the golden version of the card. An awesome animation and rock sound when it's played.
11:33
- New ranked play mode, that feature new golden Heroes! Talking now about the new iPad version of the game... and now an iPhone version as well... and Android! Both are in development right now, they're hoping to have the iPhone and Android versions out in the second half of next year.
11:34
- On to the Warcraft movie. Duncan Jones will be here tomorrow at BlizzCon, along with the special effects producer who has played WoW since the beginning with a level 90 character. This month is World of Warcraft's 9th's birthday. Pardo says he's been working on or playing WoW most of his adult life.
11:36
- Talking about the history of WoW, and the first battleground, and the first raid with the 40 man Onyxia run. On to Outland, and the first flying mounts. Last but not least, a fun event to talk about was the first pandemic in virtual history... the Corrupted Blood debuff killing the world.
11:39
- As developers, even when things go wrong, it creates shared memories for the players. At BlizzCon, there are even more shared experiences, meeting people and players in the community. Pardo's favorite part of BlizzCon is seeing "virtual friends" meeting in person. On behalf of everyone at Blizzard, Pardo wants to thank the gamers for letting them be the dungeonmaster for many years.
11:41
- The next chapter in World of Wracraft... from Chris Metzen! The excitable Metzen is out on stage, "awesome" to be back. The film is in development, at long last. All the development that is ongoing with the game. Blizzard has been thinking about Warcraft; what is it after all this time, nearly 19 years. Thinking a lot about the early days, back to Orcs and Humans; Tides of Darkness; Beyond the Dark Portal, the original games of Warcraft. The events of those games are like the origin points for the factions, Alliance and Horde. "Horde just because you went and got yourself a Troll as Warchief, that doesn't mean I'm not with you, many miles to go."
11:44
- There are a lot of WoW players who never played those games. When they thought about where to go with the adventure, a lot of the content from before comes forward. About 30 years ago (in game time), someone thought it was a great idea to open a dark portal between Azeroth and Draenor. Lead by characters like BlackHand, some of the baddest dudes ever in the Warcraft franchise. These guys almost had their way, almost conquered the world. Going through the various cultures of Azeroth, who were not friends, who had no common history at that time. In the face of that onslaught, in response to the badass Orc leaders, the Alliance came together and founded a union based on honor and righteousness. This Alliance saved the world. "Damnit, you're the Captain America faction, and I love you for that!"
11:47
- Alliance remains the world's standing superpower, after the Siege of Orgrimmar. "Don't worry Horde, there is honor to be served. When you think about all that history and context, a really interesting question comes mind: What if those dark days could come again? What if a pantheon if the most viscous villains in Warcraft could threaten the world... and Alliance, how would you respond? With righteousness and honor, with weapons primed! The conflict to come will be Alliance's finest hour.
11:50
- Horde, you had to live with the disappointment of Thrall's choices, and a bunch of elves and gnomes running through Orgrimmar. Now, under new leadership, you have a chance at a new start, a chance to redefine yourselves in this brave new world. As is often true, to reach for the future, you often have to confront the ghosts of the past. And so...
11:52
- Blizzard presents the next expansion for WoW: Warlords of Draenor! A video is up, with ingame cinematics. "War is the lifeblood of this world. We are it's children; soon it's masters! Ours is a legacy of conquest, a rising tide of blood and iron that will wash over this world, and all others!" New world: Draenor; Level cap raised to 100, new items and rewards, boost to 90 and play immediately, new character models (huge cheers for that!) Metzen is back out, talking about the WoW panels that are coming up. And the opening ceremony is done!
11:57
- Mike Morhaime is now chatting, talking about looking outside at the 5 banners for each of the games, and how proud they are. Diablo III playable today on both PC and PS4, he says it "looks great on the PS4". They're working on the next StarCraft II expansion, but not showing that off today. Talking about Heroes of the Storm, and how it moved beyond being just a map.
12:01
- Talking about closing the Diablo III action house, why close it entirely? "We looked at it, and it really did impact the game -- if you spent time in the AH, it was the best way to get the best items, they were not very expensive. It's something we were thinking about for a while, and then when we saw the response from the console D3 without the AH. We have this chance to make a better game, without the AH. " A question about the business model, now free to play coming with new games; will WoW got that way? Morhaime says the first 20 levels are free, but it wasn't designed as a F2P game, he doesn't see that transition happening there, but they're always looking to make the game easier to jump into for new players.
12:03
- Question about Titan, Blizzard rebooted it this year. Any word on that? "It's a little awkward to be talking about our 'unannounced project'. The path we were on was not going to deliver a Blizzard quality game. We've taken some steps back on that. It is now pretty different from what we originally set out to do."
Mike Morhaime is done, and that wraps up the opening ceremony and the start of BlizzCon! This live blog is done. We will will have live blogs of the big newsworthy Diablo III panels throughout the weekend, and have more news coming from BlizzCon!
See the BlizzCon 2013 News section for the latest live blogs and other Diablo III news from BlizzCon! Follow us on Facebook or Twitter for all the breaking Diablo III news, as it happens.