'Reaper of Souls' Confirmed for PS4, Playable at BlizzCon
The PlayStation 4 release of Diablo III will start with 'Reaper of Souls'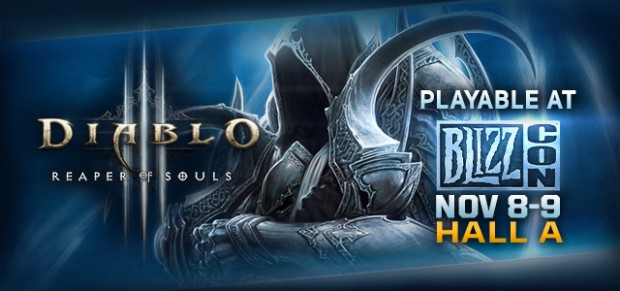 The upcoming
Reaper of Souls Expansion
will be arriving on the PlayStation 4, and will be playable on both the PC and PS4 next month at BlizzCon 2013, Blizzard announced today. There will be 300 demo stations for BlizzCon attendees to play with the new Crusader class and other features of the expansion.
It sounds as though the PS4 version of Diablo III will release with the expansion content all included as part of the base game. We also still haven't heard details on how that will work, or when the expansion (or DLC as it is called on consoles) will be coming to the PS3 and Xbox 360 consoles. All that info should be detailed at BlizzCon, if not sooner. It's going to be an exciting BlizzCon this year for Diablo III fans, whether they play on the console or PC!
Malthael, the Angel of Death, grows restless. Having sieged the historic city of Westmarch, he now sets his sights on a new metropolis: Anaheim, California—the great gamer haven of the West. Soon, his forces will begin their march on the hallowed halls of BlizzCon and only you, mighty Nephalem, can defend its denizens and help put a stop to the coming apocalypse.
Are you ready?
Join the Crusade, November 8-9
Summon your allies, ready your best weapon, and prepare to make a stand against Malthael in Hall A of the Anaheim Convention Center.
With 300 demo stations at their command, attendees will have the opportunity to join the fight for Westmarch, seek fame and treasure in all-new Nephalem Rifts (previously called Loot Runs), and journey through Adventure Mode, where the world itself is your battlefield. All five of the original Diablo III classes will be playable, as well as the recently-unveiled Crusader, a fierce mid-range melee warrior who wields punishing weapons (and an even more punishing arsenal of spells and abilities).
Looking for more Reaper of Souls screenshots? Click here!
Reaper of Souls Invades PlayStation® 4
We're also excited to announce that Diablo III: Reaper of Souls will be making its public debut on the PlayStation® 4 at BlizzCon 2013!
In our action-packed single-player and same-screen co-op demos, players will get to explore the haunted streets of Westmarch as one of our five original classes or test their mettle as the unyielding Crusader. Attendees will also be some of the first in the world to take on Death itself using a DUALSHOCK®4 controller, featuring touch pad technology designed to help keep heroes out game menus and focused on what they do best: killing monsters.
Click here to view the full BlizzCon 2013 floor map.
For those of you who are BlizzCon-bound, we salute you! If you can't make the show in person, be sure to check out the Virtual Ticket, which includes over 60 hours of high-definition footage so you can catch all the action from the comfort of your home.
Head on over to BlizzCon.com for panel schedules, event maps, hotel and travel information, forums, and more, and be sure to stay tuned to diablo3.com for all the latest news for Reaper of Souls on PC and PS4!