BlizzCon 2013 Online Store Now Open
The first set of BlizzCon items includes a 'Reaper of Souls' lanyard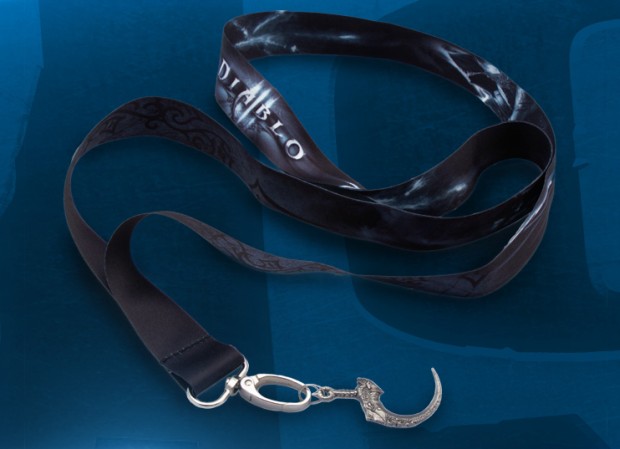 Blizzard's online store is listing items exclusively for BlizzCon 2013, available to anyone with a Virtual Ticket or a ticket to attend BlizzCon. The first Diablo-related item is a lanyard themed to the
Reaper of Souls Expansion
, displayed above.
Unlike previous years where the items weren't shipped until after BlizzCon, the BlizzCon 2013 items will be shipped immediately. The Blizzard store only has a handful of new items right now, but Blizzard is promising more items over the next month. The BlizzCon 2013 items will be available for sale at Blizzard's store until the end of BlizzCon 2013 on November 9.
Here's the official announcement:
This year's BlizzCon Store online sale has just begun! This sale is exclusive to BlizzCon attendees and Virtual Ticket buyers, and runs until the end of the show on November 9. The store is stocked with some epic never-before-seen loot, along with some of your favorite items from BlizzCons past. Supplies are limited, so if you're not going to the show in person or haven't yet purchased a Virtual Ticket, you might want to order now to get an early chance at some cool BlizzCon merchandise.
Unlike previous years, all orders will be shipped upon receipt—so the sooner you order, the faster you'll get your BlizzCon swag. Keep in mind that orders are shipped from the United States, so international shipping rates may apply.
To access the sale, log in to the Blizzard Store using the Battle.net® account associated with your BlizzCon ticket or Virtual Ticket (physical ticket buyers can view this info in their Order History).
Check out just a few of this year's new items below:
Be sure to come back in the coming weeks, as well, as additional items and surprises will be revealed as the sale continues!