Blizzard Surveys Gamers on 'Reaper of Souls' Pricing
Email survey gathers feedback about the expansion's editions and pricing

Blizzard Entertainment is surveying gamers about their views on potential price points for the
Reaper of Souls Expansion
in standard and collector's editions. As
reported by Polygon
, a number of registered Blizzard game owners have received email surveys asking them to rank the features of the expansion, while listing different prices for the standard edition and collector's edition of the expansion.
One section of the email survey: "Consider two versions of the expansion: a Standard Edition for $29.99 and a Collector's Edition for $49.99. The Standard Edition includes the Reaper of Souls expansion; the Collector's Edition includes the expansion, exclusive in-game content, and other bonus items."
Different people received varying price points in that section of the email, as Blizzard gauges the accepted pricing for Reaper of Souls. The price for the standard edition varied at price points of $29.99 and $39.99, while the collector's edition was listed at either $49.99 or $59.99. Traditionally, expansions for Blizzard's games have sold for $39.99 in the standard edition, and $79.99 for the collector's edition. Starting with the
World of Warcraft: Mists of Pandaria
expansion, they also added a digital deluxe edition at $59.99.
The survey also looked at what features in Reaper of Souls users are most excited about.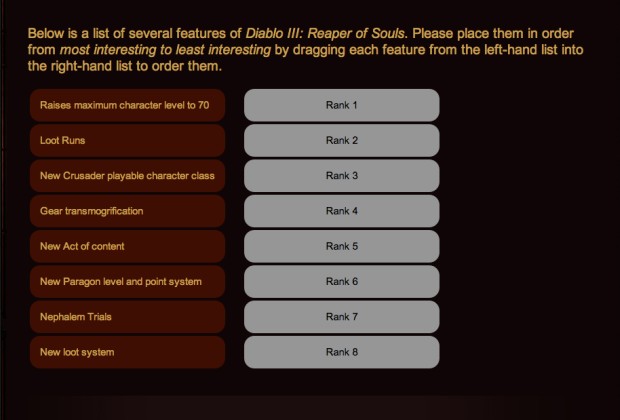 Blizzard is clearly gauging the expectations for pricing and features in the upcoming Diablo III expansion. Time will tell whether or not they decide to change the pricing from their normal practices, with this expansion.