Book of Tyrael Available Early at New York Comic Con
The book of lore can be bought early and autographed by the authors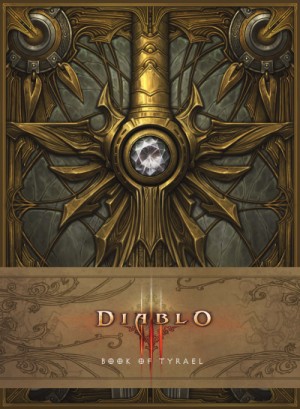 The book of lore
Diablo III: Book of Tyrael
will be released October 29, and provides backstory to the time between the end of Diablo III, and the story of the Reaper of Souls expansion. The book can also be purchased early from the publisher's booth which will be at the
New York Comic Con
, which runs from October 10-13.
Not only is the book available early, but attendees can get it autographed by some of the Blizzard team who wrote it! This is a great opportunity for any Diablo fan who is going to the NYCC.
If you can't make it to NYCC but are interested in the book, it can be pre-ordered at a discount
from Amazon.com
. Here's the announcement of the event, from the publisher:
We're very excited to announce that Diablo III: Book of Tyrael (Pub. Date: October 29) will be signed at NYCC on Saturday, October 12th at 11:00 a.m. in our booth! Join Doug A. Gregory from art direction, illustrator Joseph Lacroix, and Blizzard lead story developer Micky Neilson.

One of the most exciting and visceral action role-playing games in recent memory, Diablo® has become a worldwide gaming phenomenon. Diablo III: Book of Tyrael takes fans even further into the universe with a detailed and beautifully crafted artifact that focuses on the renowned champion Tyrael. As a former archangel of the High Heavens, he ranks among the most important and influential characters in the Diablo franchise. Here, in this illustrated and comprehensive tome, he reveals never-before-known secrets about the history of the world, the dark threats that yet face mankind, and his decision to join the ranks of humanity as a mortal. Featuring stunning original art throughout, this beautifully illustrated follow-up to Diablo III: Book of Cain will also feature letters from Leah and additional fragments of Cain's writings, all curated by Tyrael as he weaves together a complex and fascinating story for the members of the Horadrim.

Diablo III: Book of Tyrael also features a fully removable illustration of the Leoric family and other influential characters from Old Tristram, including Deckard Cain, Prince Albrecht, Archbishop Lazarus, King Leoric, Prince Aidan, Queen Asylla, Leah, and Adria. This reversible image demonstrates their normal appearances on one side, along with a representation of their dark fates on the other.
See the
original Blizzard announcement
for more details about the Book of Tyrael.