Cosmetic DLC Released for Console Diablo III
Digital t-shirts can be purchased for the Xbox 360 or PS3 Diablo III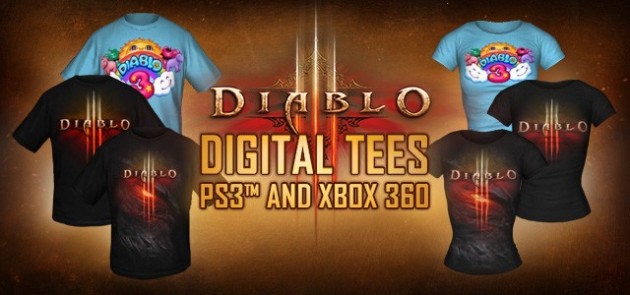 A common form of downloadable content (DLC) for console games is the t-shirts worn by avatars on the PlayStation 3 and Xbox 360. Diablo III now has those tees available for the console versions, with each DLC costing $1 each. Console Diablo III players can now show their love of the game digitally, on their avatars.
Heroes of Sanctuary, represent your Nephalem Valor with three new Diablo III T-shirts for your Xbox® Live and the PlayStation® Home avatars!
To accompany the launch of Diablo III on console, we've released a slew of DLC goodies for your favorite platform. Show the world your fashionable side with one of three different T-shirt designs, available for both the men and women of Sanctuary:
Shirt designs can be purchased via PlayStation Home and PlayStation Store (for PS3 users) or the Xbox Avatar Store (for Xbox 360 users). So, gear up and get ready to take down the Lord of Terror in style!