Crusader Class and Loot 2.0 Detailed
Videos of the Reaper of Souls expansion announcement, and an interview with Josh Mosqueira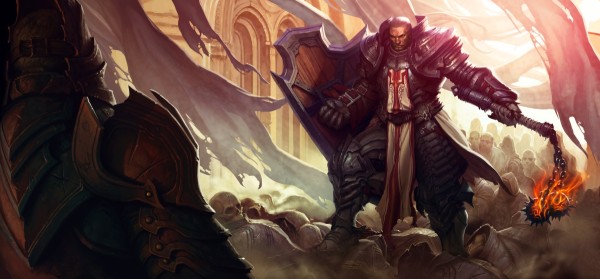 The Reaper of Souls info continues to roll out, including some videos of the Blizzard press event this morning.
Here is the first of many video interviews of the Diablo III developers that will be happening at gamescom; this one is a Gamestar chat with Josh Mosqueira. Mosqueira naturally has no definitive answer for the question about the release date for Reaper of Souls. When the discussion moves to the new Crusader hero class, he describes it as "a character all about armor and shields", with the class idea being an off-shoot of the Paladin from Diablo II. He also touches on the question of white items dropping, and how they will be used in some way; the goal is for all items that drop to potentially have "utility" in the game.
Reaper of Souls - Crusader Class
A video from the Blizzard press event has info about the Crusader class. Crusader skills can be seen in action, along with the backstory for the class. It wraps up with a demo of a Crusader making his way through the outskirts of Westmarch, fighting the undead there.
System Overhauls: Loot 2.0, Paragon Levels, Randomized Gameplay
Another video from the press event is Josh Mosqueira delving into the big changes coming in some of the core game systems. These involve the Loot 2.0 overhaul, the new Loot Runs randomized gameplay, and the Paragon 2.0 system that will bring Paragon Points. There's a lot of great info here about the exciting changes coming to the game, in a massive patch even before the expansion arrives.
The battle.net forums
in the EU
and
in the US
have new forums specifically for discussing the Reaper of Souls. All blue posts there will show up automatically in our
Blue Post Tracker
.
There will be a lot more info about Reaper of Souls, and the big game changes coming apart from the expansion, in the days ahead. Follow us on
Facebook
,
Twitter
, or via our
RSS news feed
, to keep up with all the latest Diablo III news!