Diablo III Expansion Gamescom Trailer Confirmed
The D3 expansion trailer is rated, and 'The Dark Below' trademark is now verified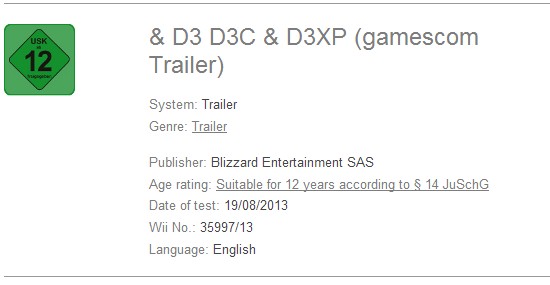 The German video game ratings board has confirmed a Diablo III expansion trailer for gamescom 2013. The trailer is listed for the base Diablo III, Diablo III on console, and the upcoming Diablo III expansion. The
ratings at USK
rate this trailer for age 12+; an auto-translated version of the page can be seen above. The Diablo III expansion is expected to be titled
Reaper of Souls
, to be unveiled at the Blizzard press conference on Wednesday, August 21.
Another title related to Blizzard games is
The Dark Below
, which was recently
rumored to be trademarked
by Blizzard Entertainment. The trademark could not be verified at that time, but we can now confirm that Blizzard has indeed
trademarked the name in the EU
, as a title for a video game or expansion. This is most likely the name of the next World of Warcraft expansion. The WoW expansion may be also announced at gamescom, but most likely it won't be unveiled until BlizzCon 2013 in November.
For tomorrow, the big Blizzard news is the
Diablo III announcement
. We'll have the details of the D3 expansion, the trailer, and everything else as they are available. Follow us on
Facebook
,
Twitter
, or via our
RSS news feed
for all the latest Diablo III news.