'Reaper of Souls' Expansion Trademarked in EU and US
Blizzard applies for a trademark on the likely Diablo III expansion name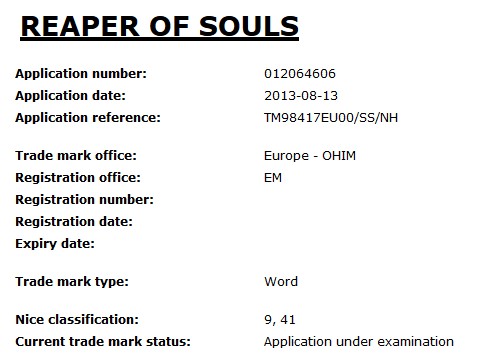 Blizzard Entertainment has applied for a trademark on
Reaper of Souls
in Europe and the United States, to obtain the legal rights for the likely name of the upcoming Diablo III expansion. The trademark info in
Europe
and the
US
is a standard one, similar to the other trademarks that Blizzard has obtained for their computer games and expansions.
It is expected that this trademark would be showing up, as the
initial teaser
info about the
Reaper of Souls
stated that Blizzard had trademarked the title.
As seen in the European application, the classifications for the requested trademark are 9 and 41, which is standard for these type of video games. The descriptions listed are:
Classification: 9
List of goods and services: Computer game software, computer game discs, downloadable computer game software, downloadable electronic games via the internet and wireless devices, interactive multimedia computer game programs.

Classification: 41
List of goods and services: Entertainment services, namely, providing on-line computer games, providing computer games that may be accessed via a global computer network, providing online news and information in the field of computer games.
The big
official Diablo III announcement
is coming up on August 21 at gamescon, and is most likely about
Reaper of Souls
as the first Diablo III expansion. We'll report on all the Diablo III news from gamescon, so check back for that. Follow us on
Facebook
,
Twitter
, or via our
RSS news feed
for the latest Diablo III news.
Update Thursday, August 16:
The trademark data is now also available at the
United States Patent and Trademark Office
; this article has been updated accordingly.