Battle.net Desktop App Available to All
Blizzard's new game updater desktop program enters open beta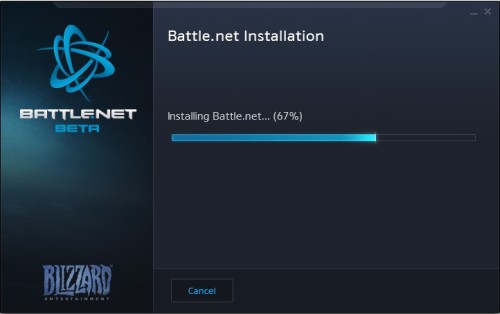 Blizzard's battle.net desktop app is now in open beta, available for anyone to download and install. It takes the place of the updater for Diablo III, Starcraft II, and World of Warcraft, and eventually Hearthstone. The new battle.net app makes it easier to log into Blizzard's games, and also provides another way to read news articles, apart from the battle.net website.
The desktop app had been
in the works
for some months, and entered closed beta
back in June
. It recently hit version 1.0 and is now available for anyone to download and install. Eventually, all battle.net users will be switched over to this new battle.net updater.
So far there are not many new features as part of the battle.net desktop app. Features such as the ability to
Appear Offline
, or to chat directly with users in Blizzard games from the desktop app, have yet to be added. Both of those may be added as the desktop app makes its way out of beta, at some point in the future.
In the months ahead, the game launchers for World of Warcraft, StarCraft II, and Diablo III will be automatically updated to our new desktop app for Battle.net, designed to improve the launcher experience and streamline your ability to play Blizzard games—but if you're interested in upgrading now, you can!
The open beta test has begun, and everyone's invited to download and install the app now in preparation for the switchover. If you're interested in upgrading in advance, simply click the button below.
What's this launcher update do? The new single sign-on functionality allows players to log in once to access World of Warcraft, StarCraft II, Diablo III, and the upcoming PC and Mac versions of Hearthstone: Heroes of Warcraft, and stay logged in for up to 30 days.
Players can also install games directly through the app and, if you choose to leave the app running on your desktop, keep them up-to-date automatically even while you're away from your computer. Please note that it's entirely up to you whether you wish to leave the app running—you can exit it at any time, and it will automatically re-launch whenever your standard launchers would. 
For more information, check out the FAQ.
Once the open beta test ends, everyone's launcher will be updated automatically when they start up the launcher for World of Warcraft, StarCraft II, or Diablo III. Players will be auto-updated in waves over time, so the exact date you'll get the update will vary from person to person.
Today also marks the end of our Battle.net desktop app closed beta test. If you've already been using the app as part of the closed beta group, you don't need to redownload or reinstall anything—you're already good to go. Thanks again for all of your great feedback throughout the course of our testing, and we look forward to hearing everyone's thoughts on the open beta in the Battle.net forums.