Diablo III Expansion is Teased as 'Reaper of Souls'
A title is given for the possible name of the first Diablo III expansion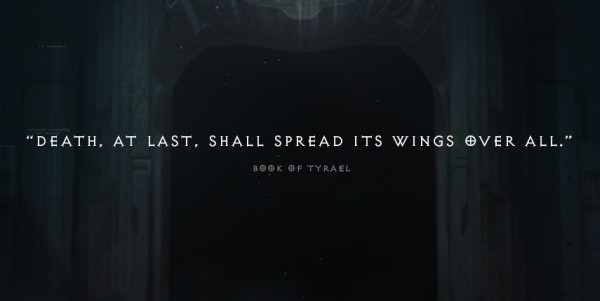 A new teaser page has gone up at battle.net that provides hints about the first Diablo III expansion, with the phrase
Reaper of Souls
featuring prominently. The teaser page can be seen at:
http://us.battle.net/d3/en/reaper-of-souls/
. Emblazoned across the middle of the page, and found within the web page files, is a single line:
"Death, at last, shall spread its wings over all." - Book of Tyrael
The
Book of Tyrael
referred to is not yet published, but will be coming out on October 1. The phrase itself is a key bit of lore, part of the "prophecy" mentioned in the older
Diablo III: Book of Cain
tome. In the opening letter of that book, from Deckard Cain to Leah, Cain writes:
Always, dear Leah, keep your eyes on the Prophecy. It is the key to the salvation of our world.


. . . And, at the End of Days, Wisdom shall be lost
as Justice falls upon the world of men.
Valor shall turn to Wrath-
and all Hope will be swallowed by Despair.
Death, at last, shall spread its wings over all-
as Fate lies shattered forever.
One interpretation of this leads to the idea of a prominent role in the expansion being filled by
Malthael
, the missing Archangel of Wisdom.
On the teaser page, the legal text at the bottom states:
©2013 Blizzard Entertainment, Inc. Reaper of Souls is a trademark, and Diablo is a trademark or registered trademark in the U.S., and/or other countries.
Along with that, the
main image
has a name including
d3x
, which is the standard abbreviation at Blizzard for the first Diablo III expansion. The extra data for Facebook on that page is listed as "Reaper of Souls - Diablo III Expansion". With all that in mind, it is likely that
Reaper of Souls
is indeed the name of the first Diablo III expansion. We will know more very soon; on Wednesday, August 21, Blizzard will be making their big
Diablo III announcement
at gamescon 2013 in Germany.