Diablo III a Day 1 Digital Download on PS3
PS3 Diablo III can be pre-ordered on EU PSN, and a new gameplay video of the Xbox 360 version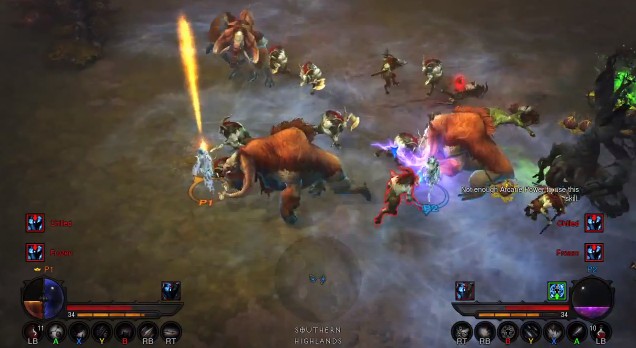 The PS3 Diablo III is a day 1 digital release, and the European PlayStation store has a
pre-order available
for it. It includes the standard pre-order bonuses that come with a physical copy of
PS3 Diablo III
, along with a "dynamic Diablo III theme" for the PS3. The game is not yet listed on the US PlayStation store for a digital pre-order, but we'll keep an eye out for it there.
Diablo III will be released on both the PS3 and Xbox 360 in just over 3 weeks, and we haven't seen as many demos of the
Xbox 360 Diablo III
version. A recent gameplay video of the Xbox 360 D3 shows more of the interface, laid out essentially the same as the PS3 version. The image above shows how temporary debuffs are displayed on characters, with both the Demon Hunter and Wizard being affected by
Chilled
and
Frozen
from the elite pack that they are fighting. Check out the video for a 10 minute look at Diablo III on the Xbox 360.