Diablo III Announcement Coming at Gamescom
Activision Blizzard Q2 2013 earnings report details the Blizzard All-Star progress and 'Project Titan' revamp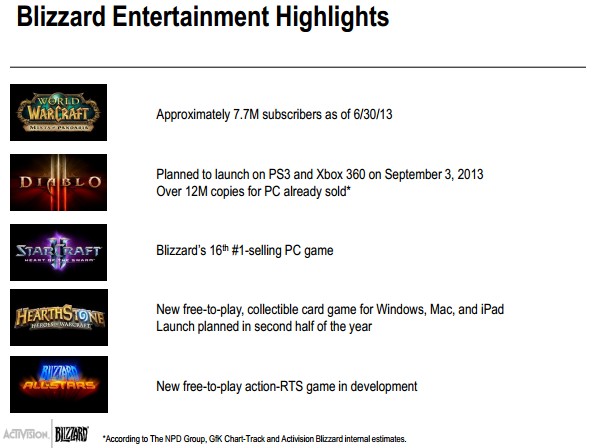 Blizzard will be providing a Diablo III announcement at gamescom in Germany, Blizzard President and CEO Mike Morhaime confirmed. During the Activision Blizzard Q2 2013 earnings report conference call, he stated that Blizzard would be sharing Diablo-related news at gamescom later this month. This is another indication of a big news announcement, after the teaser that Blizzard emailed to media outlets earlier, about the press conference that they are holding at the games convention:
You are invited to join Blizzard Entertainment at a press conference on the first day of gamescom 2013. We're making a special announcement that's sure to capture the attention of the Heavens, Burning Hells and all the shadowed places that lie between.
Any guesses about what this "special announcement" will bring are purely speculation. It is easy to imagine the first Diablo III expansion being announced there, if Blizzard wants to get the news out before BlizzCon rolls around in November. Another possibility could be an announcement of Diablo III coming to the Xbox One, if the game is being developed for that next-generation console. Even if there isn't an announcement of that size, it will be fun to have more Diablo III news, in this time before the first console releases. We'll have all the details in a few weeks, on August 21!
Updates were provided on the slate of games that Blizzard is working on, from comments made by Mr. Morhaime during the earnings report conference call.
World of Warcraft
World of Warcraft
is down to 7.7 million subscribers, with the decline split about evenly between Asian and western markets. That continues the decline from
8.3 million subscribers
that the game had at the end of March 2013. Patches 5.2 and 5.3 had a positive impact in stabilizing the churn rate, in both regions. Blizzard continues to look at ways to improve the process for players coming back to the game, to make it easier for returning players to jump back in without feeling overwhelmed by the changes.
Project Titan
The unannounced project code-name
Project Titan
was discussed, with clarification given to deal with some of the recent speculative reporting. Blizzard is in the process of selecting a new direction for the project, and re-envisioning what they want the game to be. They can't talk about the details yet for what the game will be, but it is unlikely to be a subscription-based MMORPG. Mr. Morhaime reiterated that there has not been an official announced or projected release date for the game. He mentioned that Blizzard has gone through this sort of iterative process in the past, on the way to creating popular, genre-defining games. As they continue their assessment, they have shifted some of the resources from the
Titan
team to their other franchises, including
World of Warcraft
and
Blizzard All-Stars
.
Blizzard All-Stars
Blizzard has been putting a lot of focus on
Blizzard All-Stars
, their upcoming free-to-play online game. Action RTS games have become increasingly popular over the years; Blizzard is looking to put their own spin on this genre, and challenge some of the existing design paradigms. They have reached a significant internal milestone, with
Blizzard All-Stars
going into wider internal testing. Blizzard will have more to say about the game later this year.
Hearthstone
The final game discussed was
Hearthstone
, Blizzard's upcoming free-to-play digital collectible card game. They have been polishing the game through internal testing, and it will be reaching the external test phase very soon. This will be the first Blizzard game on iPad, and the first time in a very long time that they have both announced and launched a game in the same year. This reflects what they are trying to accomplish with the team working on Hearthstone: to develop Blizzard quality games, on a smaller scale.
BlizzCon 2013
BlizzCon is coming up on November 8 and 9. Mr. Morhaime stated that the show will be a good one, featuring the latest Blizzard news, hands-on with games in development, and the global finals of the StarCraft II World Championship Series.
Activison Blizzard Becomes Independent in Buy Back
Further discussion related to last week's announcement that Activision Blizzard is becoming an independent company, buying back shares from the French multinational Vivendi. Activision Blizzard is acquiring 429 million shares from Vivendi, in exchange for $5.8 billion in cash. Separately, in a related transaction, an investor group led by Bobby Kotick and Brian Kelly will acquire approximately 172 million shares from Vivendi for $2.3 billion in cash. This essentially is Activision Blizzard buying out Vivendi's US-based holding company. This is another step in the relationship between Blizzard and Activision, since they joined together 5 years ago under the Vivendi structure.
Both Mr. Kotick and Mr. Morhaime talked about the nature of that relationship between Activision and Blizzard, and their "complementary areas of expertise". Mr. Morhaime said, "There's some really good knowledge sharing that's happening between the two divisions, in sort of giving each other advice and sharing the lessons that we've learned in various aspects of game-making. That's helping us on the console side of the business, and I think that there are things that as we move into different business models, Activision and Blizzard both have complementary experience dealing with different types of games that potentially could be applied or at least help us navigate the new space."
That does not mean that Blizzard will be changing how it operates, despite the latest round of structural corporate moves. Mr. Kotick noted, "At the end of the day, they are separate business operations with separate management, separate strategies, separate business plans and we view that as a big benefit." Even with the larger corporate structure being changed, Activision and Blizzard will still fundamentally operate on their own.