PlayStation 4 Diablo III Release Date in 2014
FAQ for Diablo III console versions details the release schedule, languages, and other specifics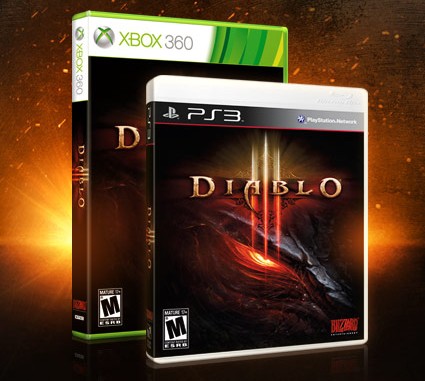 Diablo III for the PlayStation 4 will be released sometime later in 2014, according to a recent official Frequently Asked Questions section on battle.net. The FAQ also leaves open the possibility of Diablo III being developed for the Xbox One console in the future, but states that there are no announcements at this time. Other questions answered deal with the basic release schedule and languages, for the PS3 and Xbox 360 Diablo III.
As those first console versions of Diablo III near release on September 3, expect more information to be released about all the specifics. For anyone interested in buying the game on those consoles, there is a
Diablo III on the PS3 and Xbox 360 sale
for pre-orders right now, that cuts the cost by $10. That deal is only until July 27, so act soon to take advantage of it!
Here is the official Diablo III console FAQ from Blizzard:
Posted by Blizzard
Diablo III Console Frequently Asked Questions
Q: What is Diablo® III Console?
A: Blizzard Entertainment's epic action-RPG Diablo
®
III is moving the eternal war between the High Heavens and the Burning Hells to a new battleground—the console! Armed with a controller and accompanied by an interface reimagined for console platforms, players will take the role of one of five distinct classes—Barbarian, Demon Hunter, Monk, Witch Doctor, or Wizard—and embark on a dark journey to save humanity from ancient demonic forces on the PlayStation
®
3 and Xbox 360. As these heroes adventure through rich and varied settings, they'll engage in combat with hordes of monsters and challenging bosses, grow in experience and ability, and acquire items of incredible power. Blizzard has also announced plans to bring Diablo III to the PlayStation
®
4 at some point later in 2014.
Q: How is Diablo III console different from the PC version?
A: The PS3
TM
and Xbox 360 versions of Diablo III are fine-tuned with console in mind to make for an epic, controller-driven on-the-couch experience. Players will experience the same action-packed Diablo game, except this time they can share it with three other gaming buddies on the same couch, on the same TV, in four-player local co-op mode in addition to four-player online mode, or any combination of both up to four players. Not to mention we offer single screen co-op—say goodbye to split-screen!
Q: What are some of the biggest feature differences between the PC and console version?
New user interface and dynamic camera
Direct character control using the console controller
4-player multiplayer and local co-op
PSN and Xbox Live support
Combat moves such as Evade, as well as the fast equip option using the d-pad
Q: Will Diablo III console include an Auction House?
A: Diablo III console will not include a gold or real-money Auction House. Players will still be able to trade items with others during play as well as acquire upgraded follower-crafted items.
Q: Will players be able to bring their characters along with them to their friends' house?
A: Yes! Players will be able to load their characters to a USB drive and bring them along to play on a friend's console. Console players can also utilize cloud saves to access their characters. This process varies by platform.
Q: Do I need to sign up for a Battle.net account to play Diablo III on console?
A: No, a Battle.net account is not required to play Diablo III on console.
Q: Will I be able to use my Battle.net characters on the PlayStation Network or Xbox Live?
A: No. There are currently no plans for connectivity between Battle.net and the PlayStation Network or Xbox LIVE. Instead, players will connect and be able to take advantage of their existing console-based friends lists, voice chat, and multiplayer games via their chosen platform's native network.
Q: When will Diablo III on console be available?
A: Diablo III on the PS3 and Xbox 360 will be released on September 3, 2013 in the United States, Canada, Spanish-speaking Latin America, Brazil, Europe, Australia, and New Zealand. Further release details, including retail availability in South Korea, Taiwan, Hong Kong, and Southeast Asia will be announced at a later date.
Q: What languages will the game be available in?
A: Both console versions of Diablo III will be fully localized in English, German, French, Latin American Spanish, European Spanish, Russian, Italian, Polish, and Brazilian Portuguese.
Q: When is Diablo III coming to PlayStation®4?
A: We're planning to release Diablo III for PlayStation
®
4 sometime later in 2014.
Q: How will the PS4 version be different from the PS3 version?
A: We'll have further details on the PlayStation
®
4 version down the line, as we get closer to the release sometime in 2014.
Q: Will Diablo III be released on Xbox One?
A: We've announced that Diablo III is coming to PS3, PS4, and Xbox 360; we don't have further announcements to make regarding any other platform at this time.
Q: Will there be a demo or beta test?
A: We don't have any demo or beta details to share at this time.
Q: Are there any preorder bonuses or exclusives being offered for Diablo III console purchases?
A: Yes! All players who pre-purchase a copy of Diablo III for console will receive the Infernal Helm, which is wearable at level 1 and grants its wearer a +EXP bonus. Players who purchase Diablo III for the PS3 will also receive five additional PS3-exclusive in-game items, including "The Hero's Journey" and "Drake's Amulet," which are based on two popular Sony games: Journey and Uncharted. For more details, check out our
preorder blog
.
Q: Will a Collector's Edition be offered for Diablo III console?
A: There are no current plans to offer a Collector's Edition version of Diablo III for console.
Q: Does Diablo III console include features implemented in the PC version?
A: Diablo III console will include some of the features added to the PC version up to patch 1.0.8 such as Paragon levels, a console-specific version of Monster Power, Infernal Machine, and Brawling.
Q: What languages will be present on Diablo III console discs purchased in retail stores in Europe and Russia?
A: In addition to German, French, Spanish, or Italian, PS3 and Xbox 360 copies of Diablo III sold in Europe will include the English version of the game. Console versions of Diablo III sold in retail stores in Poland and Russia will only include the Polish and Russian versions of the game.