Witch Doctor Outfit on Auction at PlayStation Network
Gamers on the PlayStation Network can bid gold trophies to buy Witch Doctor costume pieces
Three detailed costume pieces for the Witch Doctor in Diablo III are being auctioned off by the PlayStation Network, with the cost being Gold Trophies on the gaming network. Sony has set up the
Bid For Greatness
website to handle the auction of dozens of costume pieces, that were featured in their recent popular
Greatness Awaits
ad.
PlayStation Network members can log in with their PSN account, and bid on costume pieces that were used in the PlayStation Network ad. These include outfits featured in games such as
Skyrim
,
Assassin's Creed IV Black Flag
, and of course
Diablo III
. The items are purchased with Gold Trophies that have been earned on the PlayStation Network; the trophies are not used up or removed from the account, they're just "spent" for the purposes of the auction. The auctions for the costume pieces are staggered throughout the next couple of weeks, and each auction lasts for 24 hours once it starts. Bidders can track their auctions online, and will be notified via email if they are outbid.
The first Diablo III item up for auction is the
Witch Doctor Mojo
, as seen in the image above. It goes up for auction on Saturday, July 20 at 1:00 PM PST. The description for it:
When real witch doctors (or actors playing real witch doctors) want to stir up some Voodoo, they reach for their Mojo. Measuring 25" long, with hand-painted polymer shaft, real feathers and a light-up glass ball.
The next Diablo III costume piece to be sold is the
Witch Doctor Cursed Skull
. The auction for the Cursed Skull starts on Monday, July 22 at 1:00 PM PST.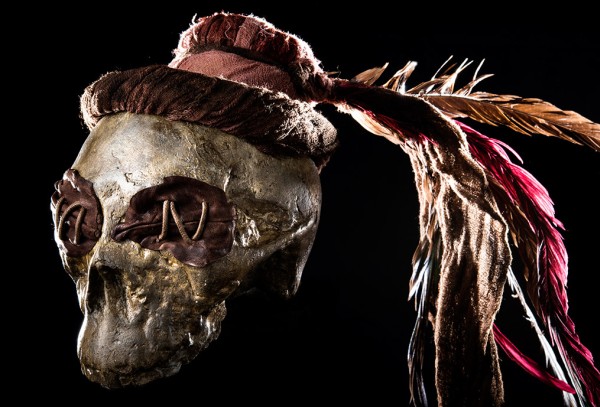 "Impress friends. Intimidate enemies. Traumatize children. Our handmade witch doctor voodoo skull is constructed of polymer with real feathers, leather and cloth wrappings. Roughly 5" wide and 7" tall."
The final Diablo III costume item for auction is the impressive
Witch Doctor Garb
. The auction for the garb stars on Sunday, July 28 at 1:00 PM PST.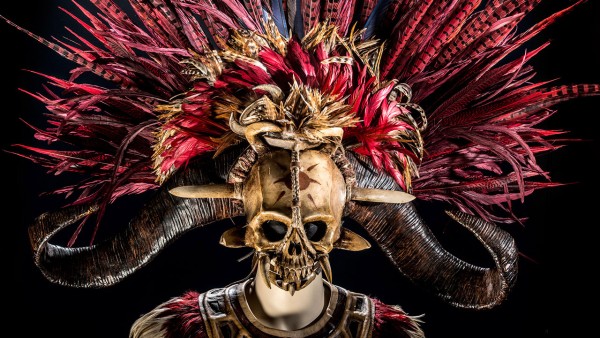 "All kidding aside, this one is simply amazing. The light-up, massive headpiece is constructed from plastic, hemp and feathers we can only assume were plucked from a particularly rare bird. Also includes "no detail too small" handmade leather chest piece."
Click through to see the original PlayStation Network ad that kicked it all off!