Blizzard Prepares a Battle.net Desktop Client
Early data from a Battle.net Desktop app shows combined game support, and new features like 'Appear Offline'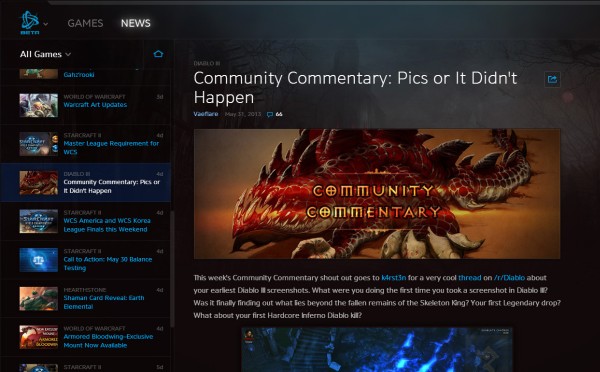 Blizzard is working on a new Battle.net Desktop Client that will support all of their online games in one updater. The new client appears to provide single-login access to all four of Blizzard's current and upcoming primary game franchises: World of Warcraft, Diablo III, StarCraft II, and Hearthstone. The client will also provide new features not available in the current update programs for Blizzard games. New battle.net
support
pages
refer to the new client as the
Battle.net Desktop app
. The client provides much of the functionality of similar multi-game support apps, like Valve's
Steam
.
A report by
MMO Champion
provides an early look at the new client, including screenshots of the client's launcher, news pages, and some of the client's text strings. It appears that Battle.net users may be able to chat directly from this client, without having to log into any of Blizzard's games.
Another long-awaited feature that appears to be in the works with this new client is the ability to
Appear Offline
. This feature was
promised back in September 2012
, as coming to all Battle.net games. That option will be very handy for the times when you don't care to interact with other people on your friends list, and want to get in some playtime on your own.
The new Battle.net client has not been announced yet, but the appearance of multiple new support pages dealing with it suggest that we may seen more information about it in the near future.