PlayStation 3 Diablo III Release Date in 2013
Activision Blizzard provides information about the upcoming PS3 Diablo III release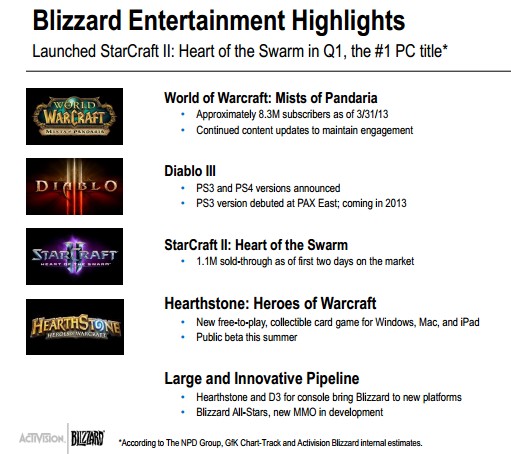 The PlayStation 3 version of
Diablo III
will be released this year, Activision Blizzard announced in their Q1 2013 earnings report conference call on May 8, 2013. The PC version of the game was also one of the top 10 best-selling PC games for the first quarter of 2013. Blizzard Entertainment President Michael Morhaime stated, "We announced that the game would come to Sony PlayStation 3 and PlayStation 4 and showcased the demo of the PS3 version at PAX East in March. Press on the PS3 version has been very positive, as we have put a lot of work into adapting the game to take advantage of the console platform's strength. The controls and interface have been modified to suit consoles and the game will have local and online multiplayer capability. We recently announced pre-orders for the PS3 version, which is scheduled to ship later this year." While the PS3 version is being actively developed to be released later this year, the PS4 version was not mentioned further in the investor's call.
The full contingent of Blizzard games was discussed in the conference call.
World of Warcraft
World of Warcraft
lost 1.3 million subscribers, or roughly 14% of the playerbase, over the quarter. As of the end of March 2013 it stood at 8.3 million subscribers, and the company expects that decline to continue throughout the year as the
Mists of Pandaria
expansion is completed.
StarCraft II: Heart of the Swarm
The
StarCraft II
expansion was released on March 12, 2013 and sold 1.1 million copies within the first two days. It ended up being the best-selling PC game for the quarter.
StarCraft II
is expanding dramatically as an eSport, and the
StarCraft II
World Championship Series will culminate with the global finals at BlizzCon 2013.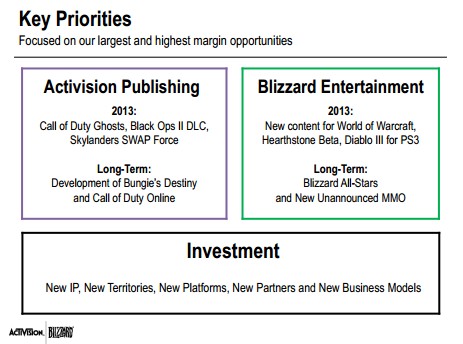 The main priorities for Blizzard in 2013 are new content for World of Warcraft, the HearthStone beta and release, and the release of Diablo III on the PS3.
HearthStone: Heroes of Warcraft
The free-to-play digital trading card game
HearthStone
was announced
at PAX East in March
, and Blizzard is moving quickly with development. The Windows and Mac versions of
HearthStone
are expected to go into public testing this summer and released later this year, while the iPad version will come out shortly afterwards.
Blizzard All-Stars, and the 'Titan' MMO Project
Both
Blizzard All-Stars
and the officially unannounced 'Titan' MMO are still part of Blizzard's "long-term" schedule. We may learn more about these games at BlizzCon in November, but perhaps not even then. With six different games or franchises in development, Blizzard Entertainment has a busier year in 2013 than ever before.