Diablo III First Year Retrospective
A look back at the big news, patches, and bugs for Diablo III in the first year of release!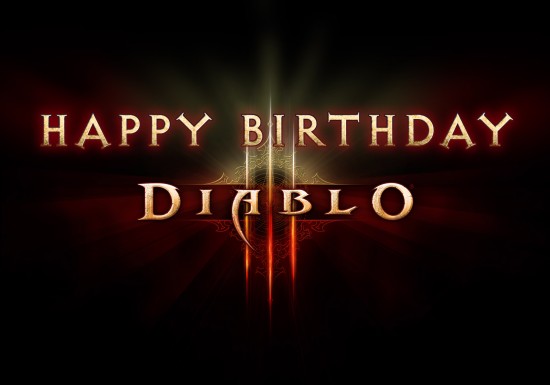 Diablo III was released on May 15, 2012, which makes it one year old today. We are
celebrating with special features
this week, including this look back at the excitement and action throughout the first year of Diablo III's release! Stay awhile, and listen...
June 28, 2008 - Diablo III Unveiled - Diablo III was officially announced in June of 2008, at the 2008 Blizzard Worldwide Invitational in Paris, France.
September 2011 to May 2012 - Beta Patch Notes - Although there were sneak peaks of Diablo III at Blizzcon events, the public beta was the first big opportunity to play the game. The game development progress can be seen through the changes in the beta patch notes, along with some discarded ideas. It was a lengthy beta, running through May 1, 2012.
April 2012 to May 14, 2012 - Darkness Falls, Heroes Rise - A promotional website was put up by Blizzard in the month leading up to the Diablo III release. Details about all the classes, interviews with the developers, and other info was unlocked throughout the month. This all lead up to the release night Midnight Launch Events around the globe!



A look at the archangel Tyrael from the official

Book of Cain

,

as part of the

Darkness Falls, Heroes Rise

promotion.



May 15, 2012 - Diablo III Released! - The day finally arrived when Diablo III was unleashed upon the world! It was an immediate hit, with millions of players lining up to play it. Diablo III set a PC launch record, selling more than 3.5 million copies within 24 hours, and garnered over 6.3 million players in the first week. In a later interview Blizzard CEO Mike Morhaime stated that Blizzard sold 10 million copies of Diablo III within the first month of release, which exceeded the sales forecast for the entire first year!
May 15, 2012 - Error 37 - With the mass influx of players beyond the expectations of the Diablo III team, the servers were greatly overloaded. This showed up in a plethora of errors that included Error 12, Errors 3005 and 3006, getting stuck on "Retrieving Hero List" and of course the infamous Error 37. It was such a nefarious pest that a whole Error 37 meme developed, as it plagued players who were trying to get into Diablo III and start slaying demons! More servers were added and other work done by the production team, to get everyone playing.
May 18, 2012 - May 2012 Hotfixes - The first Diablo III hotfix rolled out 3 days after the game was released, with more hotfixes over the next two weeks. A Game Design Update on May 28 gave interesting statistics about the playerbase, after nearly two weeks of release: at that time, only 1.9% of characters had unlocked Inferno difficulty, and 80% of characters were between levels 1 and 30.
May 29, 2012 - Patch 1.0.2 - The first client patch landed with 1.0.2 at the end of May, but it wasn't a major patch. It did bring a number of bug fixes and some changes to skills, and was followed by "fast patches" 1.0.2a and 1.0.2b that had the same type of fixes.



Patch 1.0.2 was the first Diablo III client patch after release.



June, 2012 - June 2012 Hotfixes - By June, a number of players had fought their way into Inferno, and the development team started the adjustments there. The hotfixes in June brought increased drop rates in Acts III and IV of Hell difficulty and Acts I–IV of Inferno difficulty. Bosses were given guaranteed

Rare

item drops, based on the number of Nephalem Valor stacks.
June 4, 2012 - Diablo III Developer Q&A on Reddit - Game director Jay Wilson and senior game designers Wyatt Cheng and Andrew Chambers had a wide-ranging question and answer session on Reddit.
June 12, 2012 - Real Money Auction House Goes Live - Patch 1.0.2c activated the RMAH in the Americas region, bringing the opportunity for players to buy and sell Diablo III items for real currency. The same day brought a round of Diablo III account bans, for players who were cheating by using bots and hacks in Diablo III. That process continues regularly, as Blizzard bans players who are found to be using outside programs that are not allowed within Diablo III.
Read on to continue the history of the first year of Diablo III, starting with the first major patch!
June 19, 2012 - Patch 1.0.3 - The first major Diablo III patch was Patch 1.0.3. Along with numerous skill changes, it brought the much discussed IAS item nerf: + Attack Speed bonus values on weapons and armor were reduced by 50%. Powerful items became more common with the patch, as high-end items (items level 61-63) dropped in all Acts of Inferno and Acts III and IV of Hell difficulty. The gold and component crafting costs were slashed across the board, to encourage greater use of the crafting system.
July and August, 2012 - July 2012 Hotfixes - Multiple rounds of hotfixes and fast patches were seen, with hotfixes in July and August, as well as Patch 1.0.3a and Patch 1.0.3b. The most notable fixes were for a bug that provided full invulnerability to Wizards, and another fix for a health regeneration bug when using

Furious Charge

that gave Barbarians near immortality.
July 3, 2012 - Magic Find Gear Swapping - A game developer post discussed possible solutions to the issue of players feeling a need to swap out equipment, to have Magic Find gear equipped before getting a killing blow or opening a container.
July 16, 2012 - Game Limits - A system was added (and removed, then added again!) to limit the number of games that a player can start within a short period of time. This was done as an anti-bot measure.
August 6, 2012 - Character Profiles Added to battle.net - Profiles for each Diablo III character were added to the battle.net website, providing interesting data about each character and Diablo III account.
August 15, 2012 - diablo.somepage.com Launches! - This website was launched, bringing a mix of news, data, and guides to the Diablo III community. We started off with Character Rankings, along with the Popular Builds charts, which remain highly used.
August 21, 2012 - Patch 1.0.4 - Patch 1.0.4 was a monster of a patch, with improvements across nearly every aspect of the game. The first major game system added after release was provided here, with a max-level progression system called Paragon. Paragon Levels give bonuses for characters as they gain experience at level 60, including boosts to Magic Find and Gold Find. Those two attributes were capped at 300% in the patch, and a character who reaches Paragon Level 100 is at that limit; in this way, the issue regarding characters swapping gear to Magic Find equipment for kills was somewhat resolved. Patch 1.0.4 also brought a major revamp of the Legendary items, boosting the stats of nearly all of them, while others were given unique effects.



Paragon Levels were one of the major additions in patch 1.0.4.



August 22, 2012 - Jay Wilson Apologizes for Facebook Language - Diablo III Lead Developer Jay Wilson got into some hot water with a profane comment on a friend's Facebook page that was unknowingly readable by the public. After the resulting furor, Mr. Wilson offered a public apology, along with a bit of a preview of the next Diablo III patch.
August 25, 2012 - Top Skills and Builds in Patch 1.0.4 - Here at diablo.somepage.com, we took a look at the top builds and skills that were popular right then with level 60 characters in Diablo III. These were compared to the skills that had been popular back in patch 1.0.3, to generate a list of the skills that were the biggest winners and losers. One statistic showing how far things have changed: in patch 1.0.4, the most popular Barbarian active skill for both hardcore and softcore Barbarians was

War Cry

, with over 95% usage across the board. Archives of such data across multiple patches, can be seen in the main Popular Builds and Skills overview.
September 7, 2012 - Alkaizer is First to Paragon Level 100 - The Barbarian Alkaizer is the first character to reach Paragon Level 100, the maximum available. This was obtained 17 days after the Paragon system was added to the game, in patch 1.0.4.



Alkaizer reaching Paragon Level 100



September 20, 2012 - Top 25 Chart for Legendary and Set Items - We introduced a section of charts listing the Top Legendary and Set Items among level 60 characters. From the data we gather on Diablo III characters, the lists show which items are the most popular for each class, and across all classes combined. An update in October added separate charts for the Paragon Level 50 characters, as opposed to the general level 60 population.
October 16, 2012 - Patch 1.0.5 - Patch 1.0.5 arrived less than two months after patch 1.0.4, and added even more new game systems. The Monster Power system gives players more control over how challenging enemies are in each difficulty setting. This provided players a new goal to aim for, to try to handle Inferno mode at the highest Monster Power levels. The Infernal Machine system was also added and took players through lengthy steps to fight uber versions of the Diablo III bosses, to try to get a great roll on a

Hellfire Ring

. Defensive skills for all classes were reduced in power, to encourage players to pick more offensive skills; the new Monster Power system meant that characters could fight slightly weaker monsters that did less damage, until they were powerful enough to take the higher MP versions.
October 18, 2012 - October 2012 Hotfixes - There were two interesting items amid the standard bug fixes in the October 2012 Hotfix list, and the later Patch 1.0.5a client update. A bug was fixed that allowed players to dual-wield two-hand weapons; while that was available, some characters managed to obtain high stats not normally seen. Another change was that the scaling bonus to monster damage in Inferno difficulty was reduced by approximately 25% for all Monster Power levels, due to a bug fix.
November 7, 2012 - Diablo III is the Best Selling PC Game in 2012 - Diablo III was reported as the best-selling PC game year-to-date in dollars and units, for digital and retail sales combined in North America and Europe. This was noted during the investor's call for the Activision-Blizzard third quarter 2012 financial results. Diablo III had sold over 10 million copies at that time, and was continuing to sell well. It was also stated that a Diablo III expansion was planned, but that they were not ready to discuss a timeline for it.
November 9, 2012 - Hellfire Ring is the Most Used Legendary - In a review of the data from our Most Popular Legendary and Set Items charts, we announced that the

Hellfire Ring

had become the most popular Legendary item used by level 60 Diablo III characters. The shoulders item

Vile Ward

was very close behind in popularity, as another item that could roll stats used by all the classes.





November 27, 2012 - Patch 1.0.6 - Although it had a major patch number, Patch 1.0.6 was essentially just a small client update; it had some battle.net update data, but no game changes. Neither did patch 1.0.6a or the November 2012 Hotfixes.
December 8, 2012 - Top Builds & Skills in Patch 1.0.6 - Looking at the combined data of patches 1.0.5 and 1.0.6, we did another comparison of the popular skills and builds in the middle of patch 1.0.6, compared to what Diablo III level 60 characters were using at the end of patch 1.0.4. The reduction of power for defensive skills in patch 1.0.5, along with the base monsters in Inferno doing less damage, reflected in the skills being chosen -- defensive skills dropped in popularity across the board. For Monks, up until that point

Serenity

was the most popular skill. Once patch 1.0.5 landed, the Paragon Level 50+ softcore Monks stopped using it as much, and instead

Sweeping Wind

was the most picked skill. These sort of skill choice changes were seen throughout all the classes.
December 11, 2012 - Diablo III Running on Consoles at Blizzard - The Blizzard executives talked more frankly about Diablo III on the consoles, than had been heard previously. They stated that it was running on a console at that time, but did not give specifics.
December 13, 2012 - 'Diablo 3' Makes Google Zeitgeist for 2012 - The most popular searches on Google for 2012 were announced, and Diablo 3 made the list at #5. It was the only video game on the list, amid searches for popular people, sports events, and natural disasters.



Diablo 3 makes the Google Zeitgeist 2012 list



December 19, 2012 - Blizzard Revamps Asian Diablo III Account Restorations - The account restoration policy was changed for the Asian Diablo III servers. When an account is restored, all the armor and weapons become Account-Bound. This was done to stop the abuse of that policy, which was being used to duplicate items. This same change was implemented in March 2013 on the Europe and Americas servers.
December 27, 2012 - PVP Update - The PVP Update information was given just before the end of 2012, announcing that the much-anticipated Team Deathmatch system would not be implemented. Instead, a simple dueling PVP system was put together, to be added in patch 1.0.7. At some point in the future, there will be more significant PVP systems added in a patch.
January 7, 2013 - 'Class Popularity' and 'Hardcore Deaths' Charts Expanded - We updated two sections here at the diablo.somepage.com site. The Class Popularity charts show which classes are popular while leveling and through Paragon Levels, with some distinct differences between softcore and hardcore characters. The Hardcore Deaths charts detail which class survives the best in hardcore mode (spoiler alert: it's the Witch Doctor!)
January 17, 2013 - Jay Wilson Leaves Diablo III - Jay Wilson announced that he would be stepping down from the Diablo III team, where he had worked for many years as Game Director. He stated that he was transitioning to work on other projects in Blizzard, with another Game Director to be chosen. Blizzard posted for the Game Director job position, along with numerous other positions that they were trying to fill for the Diablo III team. Blizzard executive Rob Pardo made a rare appearance in the battle.net forums in a post defending Jay Wilson from some of the attacks made in the wake of the announcement.
January 24, 2013 - Ask the Devs - A new Diablo III question and answer event was started, called Ask the Devs. The first session dealt with questions about patch 1.0.7, which was in development at that time. The second session started in March 2013 and is ongoing right now, featuring questions and answers all about the items in Diablo III.





February 12, 2013 - Patch 1.0.7 - In the first major patch since October 2012, patch 1.0.7 was released. The Brawling dueling area was added, as promised. A new account-bound crafting reagent called Demonic Essence was added. It is used to craft account-bound items in 5 slots, providing potentially powerful gear that players have to obtain themselves, instead of through the Auction House. A gold sink is added with the Marquise gems, that cost over 20 million gold to craft.
February 13, 2013 - February 2013 Hotfixes - Just one day after patch 1.0.7 arrived, a hotfix landed to deal with bugs that popped up in the patch. A bug was fixed that allowed the Marquise gems and Demonic Essence items to move between players, even though they were flagged as Account-Bound.
February 19, 2013 - Blizzcon 2013 Announced - Blizzcon is the celebration of all things created by Blizzard, and the next one is Blizzcon 2013, coming on November 8 and 9. It was announced in February, and the tickets sold out quickly when they were made available in April.
February 20, 2013 - Blizzard Announces Diablo III for PS3 and PS4 Consoles - At the PS4 unveiling by Sony, Chris Metzen took to the stage to announce that Diablo III would be arriving for both the PS3 and PS4 consoles. The PS3 version was later discussed in detail and shown off at PAX East, and is now far along in development.



Chris Metzen announcing that Diablo III is being developed for the PlayStation 3 and PlayStation 4 consoles.



March 12, 2013 - Patch 1.0.7a - The fast patch 1.0.7a and the April 2013 Hotfixes both dealt with issues involving the Scorched Chapel PVP area. One critical bug was taken care of, that had killed characters who exited the PVP zone with bleeds or DoTs on them. This was merely annoying in softcore mode, but very deadly for the hardcore characters who were permanently slain!
March 28, 2013 - Diablo III Has 3 Million Players a Month, 1 Million Each Day - Former game director Jay Wilson gave a talk at the Game Developer's Conference, providing the data that Diablo III had around 1 million players each day, and 3 million each month. He also stated that both Auction Houses in Diablo III "really hurt the game", and devoted much of his talk to explaining how that happened.
April 12, 2013 - Guides Preview Patch 1.0.8 and Patch 1.0.9 - We added guides to preview the upcoming patches. The Patch 1.0.8 Guide covered all the known information about the patch while it was in development, and it is now updated to the final patch details. A prospective Future Patches guide has gathered the known information about what may go in the next major patch, designated Patch 1.0.9 for now.
April 16, 2013 - Top Items for Every Class Unveiled - We dramatically expanded the charts of information about the Most Popular Legendary and Set Items, adding separate pages for each class, which list the top items used in every Diablo III character slot. The Rare items are also tracked, with the charts reflecting the percentage of Rare items being used that came from drops, versus those that were crafted.
April 27, 2013 - Guide to the Top Builds and Skills in Patch 1.0.7 - Another comparison for the Most Popular Builds and Skills, this time comparing the skills in use during patch 1.0.7, to those that were utilized during patch 1.0.6. The availability of the Archon crafted gear had helped many characters, especially on the hardcore side where it is much more difficult to find powerful gear. This was reflected in the skill choices, like the fact that 45% of the level 60 hardcore Barbarians felt safe enough to use a

Whirlwind

build.
May 7, 2013 - Patch 1.0.8 - Patch 1.0.8 brought quality of life improvements all across the game. The most notable change was an increase to monster density within Acts I, II, and IV in Inferno difficulty, when playing at Monster Power 1 or greater. This allows players to finally break away from the constant farming in Act III, and see some of the parts of Diablo III again! Another enjoyable addition is an Identify All feature in town. Multiple experience bonus improvements were made, including the bonus experience granted by Enlightened shrines being calculated multiplicatively, and a 10% bonus to Magic Find, Gold Find, and Experience per additional player in a multiplayer game.
May 7, 2013 - Massive Gold Duping Strikes Diablo III - A massive gold duplication bug showed up on the Americas Diablo III servers, after Patch 1.0.8 went live. This came from a bug with the Real Money Auction House, which could be exploited to create gold. The Auction Houses were quickly put into maintenance, and Diablo III accounts were audited. Players who exploited the bug were penalized, including account bans. By Saturday May 11, the exploit had been dealt with, and the Auction Houses were once again back online.
May 14, 2013 - Patch 1.0.8a - A small client update fixed a large number of bugs which had cropped up since patch 1.0.8 went live. These bugs included user interface buttons that wouldn't stay checkmarked properly, and issues of "rubberbanding" seen when using movement-based abilities like

Tempest Rush

,

Strafe

, and

Whirlwind

.



After a year of Diablo III release, we are now up to patch 1.0.8a.



May 15, 2013 - Happy First Year Birthday, Diablo III! - We are happy to join Blizzard and the entire Diablo III community to celebrate the first year anniversary of the release of Diablo III! It has been a busy and exciting year in Diablo III, that brought massive additions and improvements to the game. We are looking forward to seeing what epic additions the next year brings. For right now, an anniversary buff is available for one week in the game, giving characters extra Experience and Magic Find. There has never a better time to do some demon slaying, while celebrating the first year of Diablo III!