Character Buff to Celebrate Diablo III's Anniversary
Play from May 15-21 and receive an Experience and Magic Find buff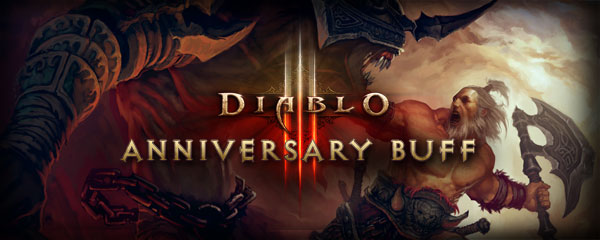 This week is the
celebration of the one year anniversary
since Diablo III was released! Today marks the one year birthday date for Diablo III, and a new buff is provided in game for the next week. All characters playing between May 15 to 21 will gain an extra 25% bonus to Experience and Magic Find. Jump in and slay some demons, and your character will get even more from it!
One year ago today, the gates of the Burning Hells opened and Diablo III was unleashed onto the world. Since then, millions of heroes have been created, billions of hours have been spent in games, and trillions of demons have been slaughtered without mercy. We've grown and improved a lot since release, both as a game team and as a community, and thanks to your feedback, passion, and unquenchable bloodlust, we expect the next year to be even more epic.
To celebrate this milestone and the community that made it possible, we're giving away free buffs! (Who doesn't like free buffs?) Players who log in to defend Sanctuary between May 15 and May 22 will receive a 25% boost to their Magic Find and +EXP stats. The buff is only available while logged in to the game, but it will apply to all characters as well as stack with other similar bonuses -- the +EXP bonus will stack multiplicatively and the Magic Find bonus will stack above the 300% cap!
Happy demon-hunting, Nephalem. Thank you for your continued support, and we wish you the best of adventures in the coming year!
The buff is now live on both the Americas and Europe Diablo III servers - happy demon slaying!