Celebrating the Diablo III First Year Anniversary
It's a week-long celebration of Diablo III being released for one year!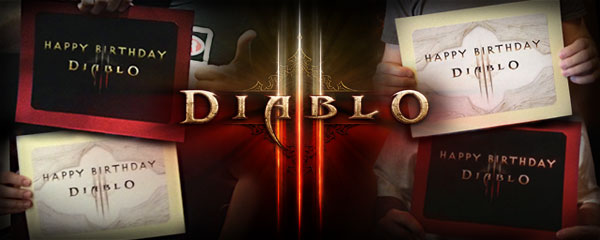 This week will bring a week-long celebration of the first anniversary of the release of Diablo III! The game was released on May 15, 2012, so this Wednesday is the 1-year birthday Diablo III. We will be celebrating all week long here at diablo.somepage.com, along with the Diablo III team at Blizzard Entertainment.
Diablo III Official Birthday Week Events
Here are the official announcements from the Diablo III community team, celebrating the one year anniversary of the release of Diablo III! We are updating this throughout the week-long birthday celebration.
We are kicking it off with a look back at the big news and events from the first year of Diablo III. The celebration will run all week, with new features and other special events scheduled throughout the week!
We hope you enjoy the week's activities, and check back with us during the week as the celebration rolls out! We will update this news regularly with information on all the festivities that occur, both here and at the official Diablo III website.
Special diablo.somepage.com Features
This list will be updated throughout the week with the major special features we have created, here at diablo.somepage.com.
This is a great time to be slaying demons in Diablo III, with an
anniversary buff
available for the week in the game. This provides all characters with extra Experience and Magic Find, but only for the week of the anniversary. Happy First Birthday, Diablo III!