Blizzard Unveils Console Diablo III Site
Showing off Multiplayer gameplay and promotional videos for Diablo III on the PS3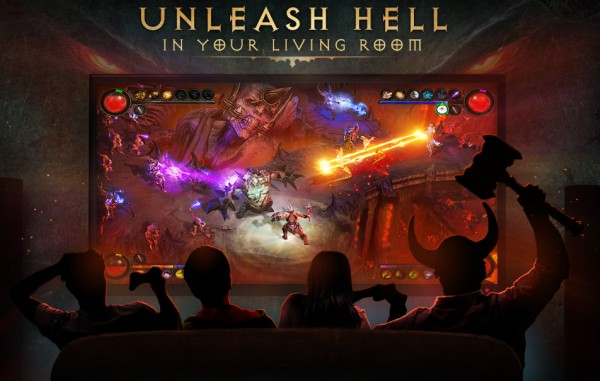 The official
Diablo III on consoles website
is now live, as Blizzard goes all out to promote the game coming to the PS3. It focuses specifically on the PlayStation 3, with no mention so far of the PlayStation 4 or any other consoles. A number of new gameplay pictures are on display, as well as the stylized multiplayer gameplay image shown above.
Read on to see all the new pictures, and three new Diablo III console videos.
The new PS3 Diablo III pictures show more of the user interface, and Diablo III characters fighting throughout Sanctuary. It is interesting to note that the PS3 Diablo III user interface has changed somewhat just across the pictures provided so far by Blizzard. Some of the original pictures, all listed in our
Diablo III on the PlayStation 3 and PlayStation 4
guide, use the big orb to show a character's resources, and the horizontal bar represents the Life left. All the recent images shown here, and in the videos below, the red orb shows Life like it does in the PC version, and the horizontal bar now shows the resources available.
Three videos were released, as seen on the
Diablo III videos media page
:
The Console Teaser shows a lot of gameplay, including the dynamic camera zooming out for certain fights.
The Console Features video shows more of the user interface changes and other console-specific details.
The Diablo Lore video gives a background to the world of Sanctuary, as seen in earlier story videos.
Check out the new videos and pictures to see how Diablo III looks so far on the PS3. We'll be covering more of that throughout the weekend, with details from the PAX East floor!