PAX East Live Stream of Blizzard Announcement
The collectible card game 'HearthStone' is unveiled by Blizzard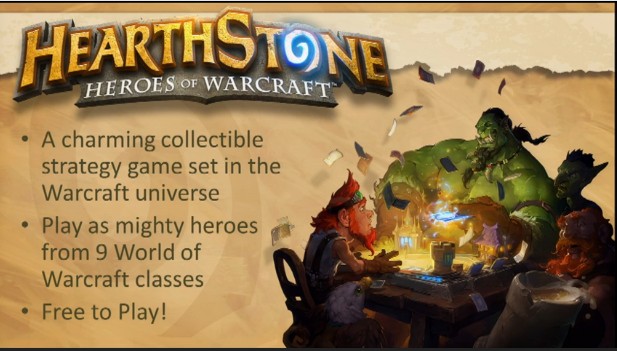 Blizzard is announcing a
new game at PAX East
today, and we'll be streaming it live!
Read on for the full live blog.
Final wrap-up:
10:37AM
: And that wraps it up!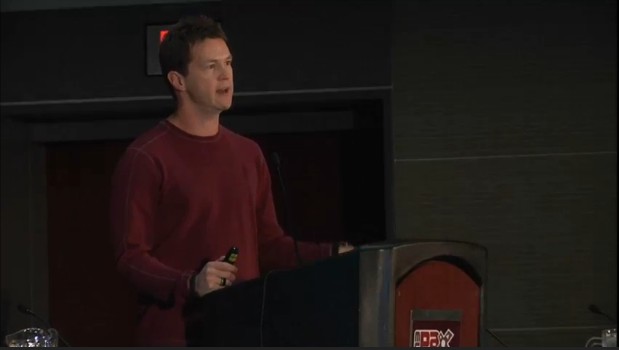 10:36AM
: PAX guys can play HearthStone now, at the Blizzard booth. Pardo says every time he's told people about the game at Blizzard, there's been initial skepticism. But then they end up playing the game so much internally, that they have to be told to stop playing HearthStone, and get back to work!
10:36AM
: Epic should mean an epic fun play experience you want to play for a really long time, not necessarily huge in gameplay.
10:34AM
: Three ways of playing. Play Mode - earn new packs. Collection Manager to manage the packs, and build your decks. Also have a Practice Mode, to test out interesting decks against the computer, base mode and expert mode. The third mode is The Forge, choose between 3 sets of cards to make a deck from random cards, then play against another player with the same sort of deck.
10:32AM
: Blizzard likes to make games that they want to play, and that they think their fans will also want to play. The lead designer talking about how easy it is to play. You can put together a deck, play a game, be done in 10 minutes.
10:32AM
: They wanted to make a team that were generalists, old-school type of developers who can wear multiple hats.
10:31AM
: Now a video of some of the developers, talking about the development process with Team 5, the group who built HearthStone. Chris Metzen talking about how the game is a step outside of the comfort zone. They wanted to see if they can develop at a smaller scale, but with the same level of passion.
10:30AM
: This is a big test for Blizzard, to see if they can announce and actually release a game in the same year.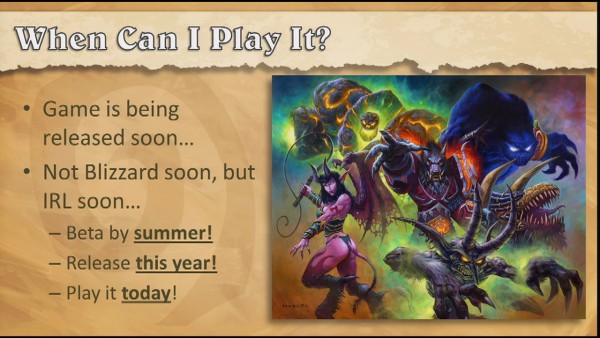 10:30AM
: Game is being launched soon... real life soon, not Blizzard "soon". Beta this summer, release this year, play it today on the PAX show floor in both Windows and iPad version.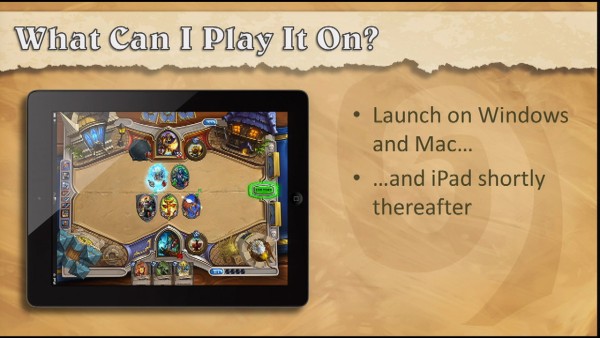 10:29AM
: The game launches on Windows and Mac... and the iPad shortly thereafter. It's being played internally on the iPad.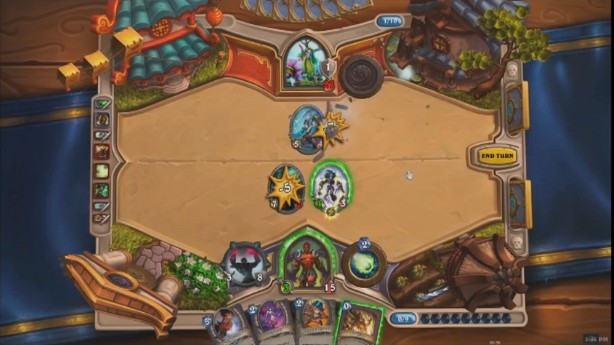 10:26AM
: Both players are low on health. Finally, Lord Jaraxxus (the Warlock) has won!
10:24AM
: The Warlock is low on health, taking more damage from the demon he played himself. He manages to survive and pull out Lord Jaraxxus. The Warlock is killed himself, and Lord Jaraxxus now plays instead!
10:22AM
: The cards are being played fast and furiously now.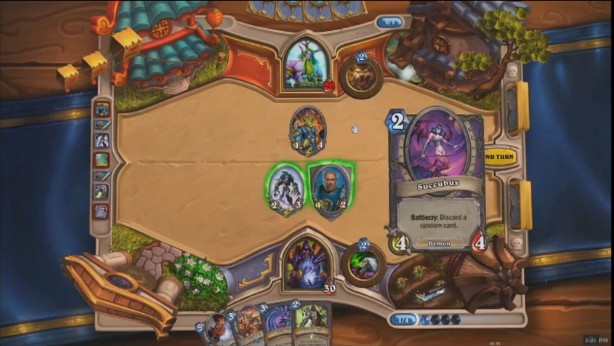 10:20AM
: Big animations coming out from each card as they are played.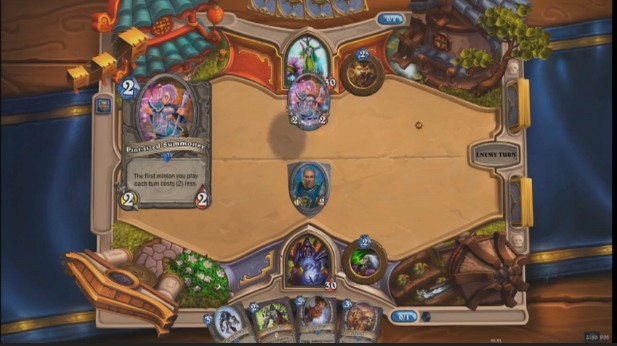 10:17AM
: Now showing live Shoutcast game, played by two Blizzard employees. Fireside duels, Druid versus Mage. The match has begun. Each player starts with 1 mana. Cards being played, using many of the sound effects from World of Warcraft.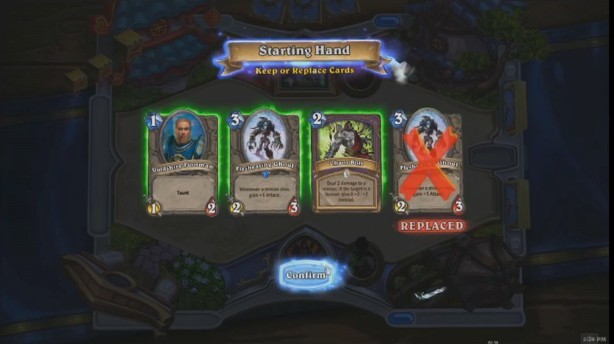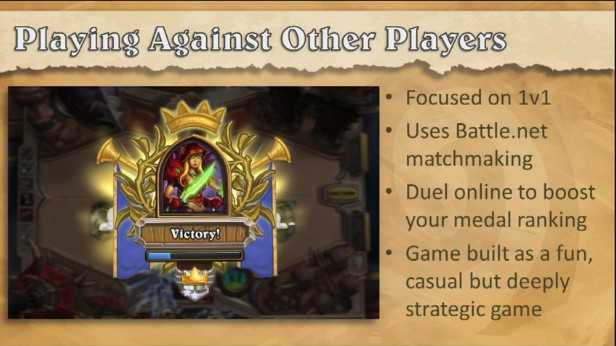 10:16AM
: The core of the game is playing it itself. Playing against other players: focused on 1v1. It uses Battle.net matchmaking. You can duel online each week to boost your medal ranking, which is how you earn new booster packs. The game is built as a fun, casual but deeply strategic game. Doesn't mean you have to sacrifice deep strategy.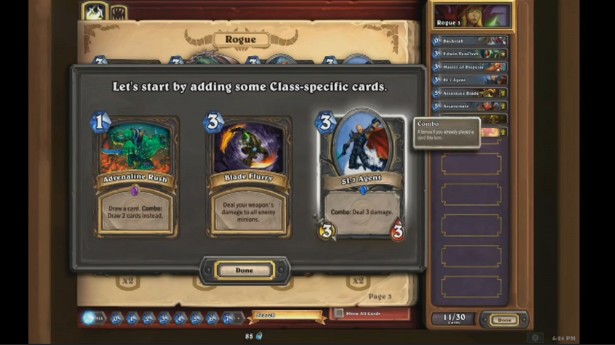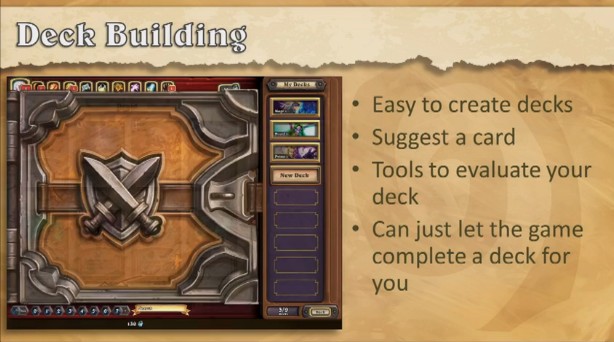 10:13AM
:
Deck Building
- It is easy to create decks, they wanted to make it simple. There's a suggest-a-card mode, kind of a tutorial mode that helps you build out a deck. Make sure you have low mana card, creatures, a decent variety within your deck. There are tools to evaluate your deck. Can just let the game complete a deck for you entirely, if you want, inserting cards into your deck that you've gotten. The three ways of making a deck can be combined: pick class, pick cards they want in their deck; cards suggested (one of 3 different cards that you can choose between), and finished by the game suggestions.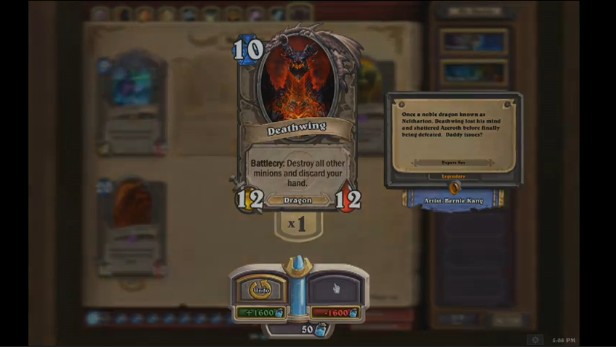 10:12AM
: Video of how that works in game... a bunch of cards are disenchanted, and turned into Deathwing, one of the most powerful cards in the game right now.
10:12AM
: Card Crafting: Best way to complete your collection. Make use of duplicate cards, make any card you want. You play as a hero: a Hunter, a Mage. The crafting system helps you get to the card you want, instead of just the ones from the packs. You can disenchant cards you don't want, which turns into Arcane Dust and can be crafted into the card you want to build.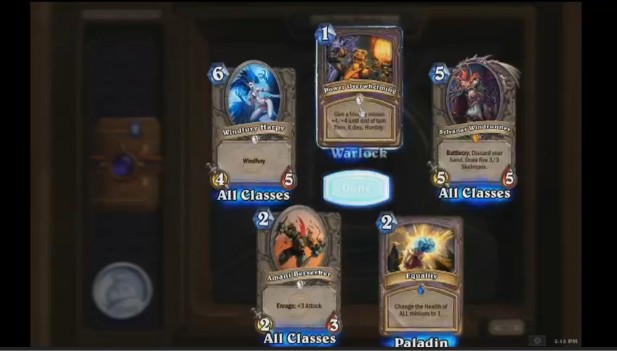 10:09AM
: It's hard to convey the fun of opening a pack online, like it is in real life. So opening a pack digitally, they tried to make it fun there as well. You see the cards flip over and glow, with special glows and sounds for Legendary cards.
10:09AM
: Common, Rare, Epic, Legendary cards just like in WoW for items.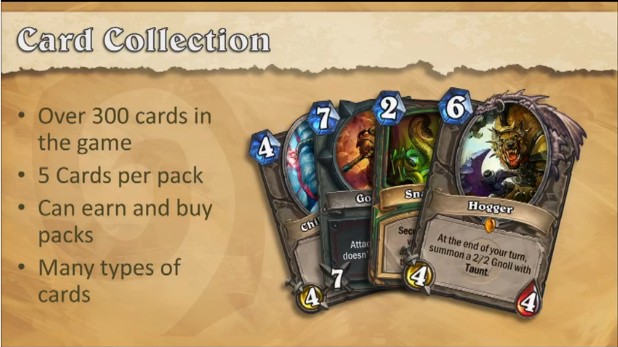 10:08AM
: Over 300 cards in the game, 5 cards per booster pack, can earn and buy packs, many types of cards. A lot of effort put into cool card collections. Unknown exact amount of money per pack, around $1/pack now, will be tested in the alpha/beta. Players can earn pack, it'll take longer but can earn them instead of buying.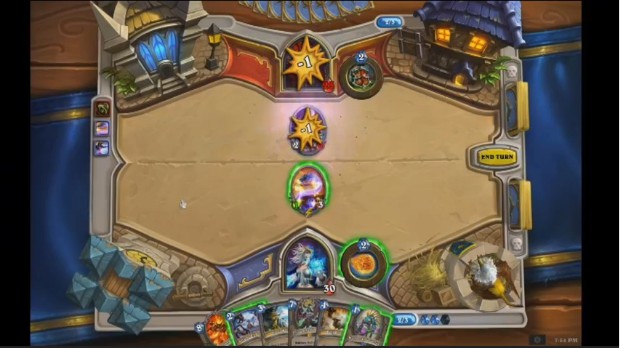 10:06AM
: Demo video of one of the games. 3D animated board, Murloc sounds with their card! For World of Warcraft players, they want the games intuitive. A Mage has Mage spells, close to WoW.
10:05AM
: They want a simple, easy to understand online CCG game. Current CCG online games just look like card games, it's not exciting to watch players go back and forth.
10:05AM
: Our Approach: Fast to play, manage rules complexity, make pack opening awesome, keep it exciting to watch. They didn't want something with complicated rules, that is hard to explain.
10:04AM
: The first questoin that a lot of people ask: why a CCG? Answer: we love playing them, milions of CCG players across the world. Opportunity for an awesome, online CCG.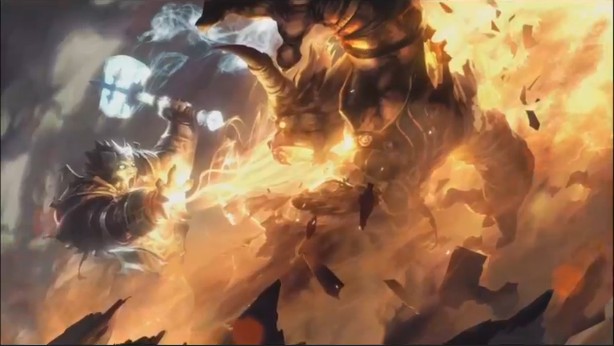 10:03AM
: Trailer now, for: HearthStone, Heroes of Warcraft!
A charming collectible strategy game set in the Warcraft universe. Play as mighty heroes from 9 World of Warcraft classes. Free to play! Collectible strategy game.
10:02AM
: This team is developing a different style of games... what kind of games could they make? They wanted something really small, different from the past, that wouldn't take 5+ years to develop.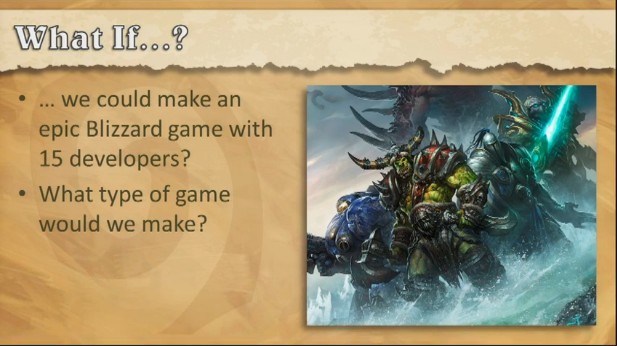 10:01AM
: Blizzard wanted to do something different than their big blockbuster games, so they made a new team... team 5! It's very different than their 4 previous teams; 15 developers, scrappy and versatile.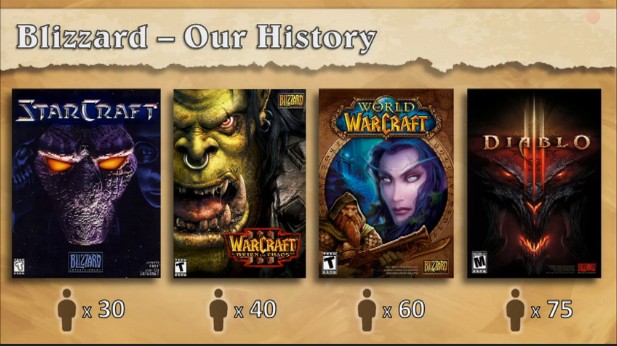 10:00AM
: Here we go! Rob Pardo is up on stage, going over Blizzard's history of development. The slide shows how the number of developers have grown for their games over the years, although he says the World of Warcraft number is dated, since they're over 150 people now on that team.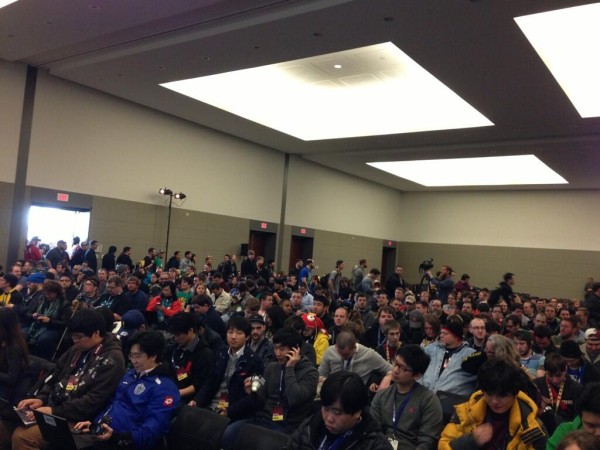 See the people waiting in the room for the announcement above, courtesy of
Rob Pardo on Twitter
.