Blizzard Teases Announcement of New Game
Rob Pardo will be at PAX East to announce the next game from Blizzard

Blizzard is preparing an announcement of a mysterious new game, which will be unveiled on Friday, March 22 at PAX East in Boston. That's only one week away, and the Blizzard PR is kicking into high gear, looking to whip up interest in the event. The latest teaser is from Rob Pardo, the Chief Creative Officer at Blizzard.
Read on for all the details we know, and speculation on what the game could be.
PAX East next week and I'm still not ready with the announcement for our next game... work work work

— Rob Pardo (@Rob_Pardo) March 12, 2013
That was one tweet from Mr. Pardo; in another, he stated that the game certainly isn't Titan, but people should feel free to guess what game it could be. This repeats the information from the announcement of the event, as sent from the Blizzard PR team: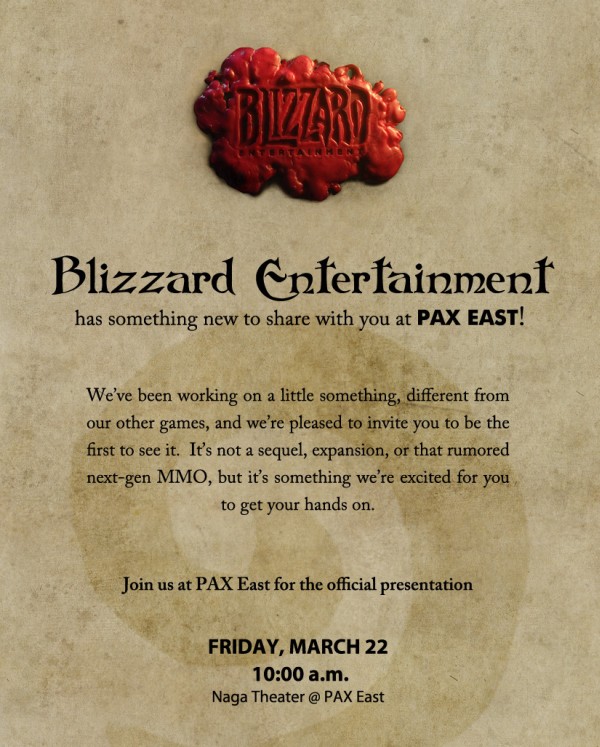 The details of the announcement event are at the
PAX East website
. The
Penny Arcade Report
got
confirmation from Blizzard
that this announcement is
not
related to the PS3 version of Diablo III that will also be demoed at PAX East all weekend, despite having the Diablo-style image on the announcement. That leaves everyone wondering: what new game will Blizzard be showing off?
One possibility is
Blizzard All-Stars
, which has been in development for a number of years. We know from the
Activision Blizzard Q4 2012 Earnings Report
that the game is in active development for 2013. But that isn't an actual new game, and it's still not very fleshed out. As noted by StarCraft II game director Dustin Browder in the
recent Reddit AMA
,
Blizzard All-Stars
has only had a few developers on it so far; it was only when
Heart of the Swarm
was wrapped up that they could afford to add some artists to do some work for it.
Other guesses have been around
Project Blackstone
, which was initially viewed as a tie-in to
Heart of the Swarm
, but did not feature in the missions for that StarCraft II expansion. Another possibility is that this game will be Blizzard's foray into the world of mobile phone apps, perhaps an iOS or Android game.
All of this is speculation, but we will know for certain next Friday at the big Blizzard reveal.